Murray Gracie detained for shooting Mark Laird in Carluke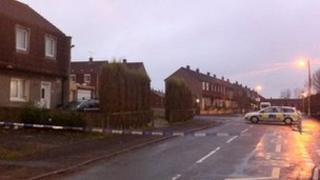 A teenager who admitted shooting his friend in an unprovoked attack in South Lanarkshire has been detained at the State Hospital without limit of time.
Murray Gracie, 19, wounded 28-year-old Mark Laird outside the victim's home in Carluke on 8 January last year.
The youth, who was 18 at the time, also fired at the home of an ex- girlfriend leaving her covered in broken glass.
Gracie, who was diagnosed as paranoid schizophrenic, surrendered to firearms officers after a stand-off with police.
The High Court in Edinburgh heard that Mr Laird had been at home with his partner and infant daughter when he had earlier received a text message from Gracie.
He had gone outside the house to smoke a cigarette when he heard a car pull up and saw the teenager walking towards him.
Mr Laird saw Gracie was holding what seemed to be a sawn-off shotgun and told him the child was in the house.
He turned his back on him to return to the house but as he reached the door he heard a loud bang and felt a searing pain in his arm and back.
Police pursuit
The victim was taken to hospital where he was found to have potentially life-threatening multiple puncture wounds to his back and a forearm.
Gracie then fired on the family home of his former girlfriend Laura Donnelly. She was heading towards a bathroom when she heard a loud bang and glass shattering.
Her mother also heard the blast and Gracie was seen leaving the street in his car.
Police later followed his car but stopped, got out and ran at their marked car aiming the shotgun at officers in the front.
The driver began to reverse away at speed but Gracie returned to his car and began following them.
Firearms officers took over the pursuit of the teenager, who headed for the Hamilton area, before surrendering to police.
At an earlier hearing at the High Court in Glasgow Gracie admitted assaulting Mr Laird to his severe injury, permanent disfigurement and to the danger of his life.
He also admitted culpably and recklessly firing the gun at the door of his ex-girlfriend's house in Carluke and assaulting uniformed police officers by brandishing the weapon and pursuing them.
The Crown accepted that Gracie, who was receiving medical treatment in the community, was acting with diminished responsibility at the time of the offences.
Ordering his continued detention, judge Lady Stacey told Gracie that she was satisfied that he should be at the State Hospital at Carstairs under a restriction order without limit of time.