Homes on Arran lose power again due to a generator problem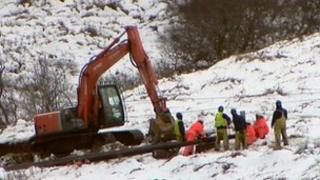 The number of homes without power on the Isle of Arran has risen to 1,200 due to a problem with a generator.
This has affected the Whiting Bay area.
The number of homes without electricity on the island had gone down to 350 on Wednesday night.
Scottish and Southern Energy said it still hoped to get everyone on Arran onto generator power by Thursday night.
Power has now been restored to about 80 homes in Kintyre, Argyll.
SSE had set up generators providing the equivalent of two temporary power stations to reconnect supplies while repairs were made to the network.
At the peak of the damage after last Friday's storm, more than 20,000 homes across west and southern Scotland were cut off.
SSE said eight pylons in Argyll alone had been damaged by sheets of ice and snow.
Argyll and Bute Council said on Thursday that every community in Kintyre now had an electricity supply.
The authority said there may still be individual, isolated homes which do not have electricity and those affected should contact SSE.
Power was restored to affected areas across Dumfries and Galloway on Monday.
Supporting farmers
Finance Secretary John Swinney has activated the Bellwin Scheme to allow additional revenue support to local authorities hit by the snow storms.
The scheme helps councils in the wake of large-scale incidents.
The Scottish government has also convened an agricultural task force to co-ordinate efforts to support farmers hit by the latest severe weather.
The group's immediate priority is minimise both livestock losses and animal suffering.
In the longer term, the government has pledged to consider future requests for aid to help the farming industry recover.
All schools in Arran are to remain closed for the rest of the week.
North Ayrshire Council said pupils involved in exams would get support on their return from the Easter break.