Sheriff wants Ronald McAllister FAI delay explanation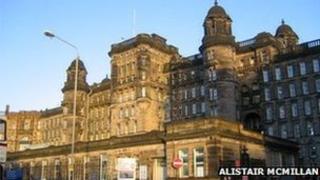 A sheriff has called for improvements to the fatal accident inquiry (FAI) system after a probe into a man's death took more than six years to begin.
Ronald McAllister died after suffering brain damage while undergoing treatment at Glasgow Royal Infirmary in 2006.
An FAI before Sheriff Johanna Johnson found his death could have been avoided if he was more closely monitored.
The sheriff said the delay in holding the FAI was unacceptable and called for an explanation from the Crown Office.
Mr McAllister was undergoing dialysis treatment at the Royal Infirmary on 10 October 2006 when a needle dislodged.
He suffered hypoxic brain damage as a result of being deprived of blood and oxygen following a cardiac arrest.
The 63-year-old was resuscitated and taken to the city's Stobhill Hospital where he died three days later.
Training concerns
The FAI into his death has taken more than six years to get under way and report its findings.
In her ruling, Sheriff Johnson concluded that while dislodgment of needles was rare, the risk could not be wholly eliminated.
She identified steps which could have been taken to minimise the risks.
The sheriff also highlighted an unacceptable delay in bringing the inquiry to a conclusion, as well as concerns over training and procedures at NHS Greater Glasgow and Clyde (GGC).
In giving evidence, lead nurse Isobel Brown was unable to direct the inquiry to any documents in use by NHS GGC to record the regular checks of dialysis patients or the settings of guards on dialysis machines.
In a joint statement, Mr McAllister's daughters Andrea Little and Beverley Taylor said: "While we are pleased that the circumstances surrounding our father's death have finally been fully investigated we are saddened and disappointed it has taken such a long time to reach this point.
"It has taken over six years since our father died for us to have these answers and in our opinion the stress and the toll that has taken on our everyday lives and our families is totally unacceptable.
"No family should be made to suffer in this way for such a sustained period of time and we truly hope the Crown Office will take heed of this determination and seek to improve the way they operate when dealing with fatal accident inquiries."
'Lack of knowledge'
Ms Little and Ms Taylor said that it was "extremely worrying" that six years on from their father's death the FAI "still identified failings in the haemodialysis training" and "a lack of knowledge" among staff in operating dialysis machines.
They added: "We sincerely hope lessons will be learned from the circumstances surrounding our father's death which will go some way towards preventing another family losing a loved one like this."
In a statement, the health board said: "NHS Greater Glasgow and Clyde would like to reiterate its deepest condolences to this patient's family for their loss.
"We have only just received the judgment but it would be inappropriate for us to comment further as this remains an ongoing legal matter."