Fazli Rahim and Saima Gul jailed for Mohammed Noor murder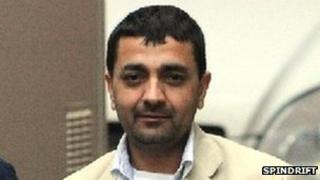 A man and woman who made a young girl collect a hammer and knife before brutally killing their victim in front of her have been jailed for life.
Fazli Rahim, 41, and Saima Gul, 30, almost decapitated Mohammed Noor at a flat in Pollok, Glasgow, on 5 May 2012.
The 12-year-old girl told their trial how she saw the victim being hit on the head with the hammer and stabbed.
Rahim and Gul were each told they must serve a minimum of 23 years in prison after being convicted of murder.
The schoolgirl, who cannot be named for legal reasons, gave evidence via video-link at the pair's trial last month at the High Court in Glasgow.
She told the court how she had been at the house when Rahim and Noor came to visit.
Screams heard
The girl recalled later hearing screams before seeing Gul and Rahim on top of Mr Noor.
The child told the jury how she was then asked to collect a hammer and handed it to either Gul or Rahim who hit Mr Noor on the head.
The young witness said she was then told to get a knife from the kitchen before being ordered to get a "bigger" blade.
She told the jury: "I can remember a knife going back and forward in his (Mr Noor's) tummy."
Rahim later left the scene - but only after going for a shower.
The girl said she was told to say he had not been there prior to him leaving.
Police later arrived at the flat and Gul said: "I no like mister - I stabbed him."
The court was told Mr Noor was discovered with his head "almost completely cut off".
Rahim had claimed he was acting in self-defence in connection with the murder, which was rejected by the jury.
'Cruel' crime
Jailing the pair for life at the High Court in Edinburgh, temporary judge Michael O'Grady QC said: "You have been convicted of a most terrible and cruel crime - it is one of the worst murders that I have ever had the misfortune to encounter.
"There is only one sentence for a crime of this sort - it is life imprisonment.
"Nobody will ever know the true reasons behind why Mohammed Noor died - only one thing is certain; he would have died in pain and terror.
"The punishment part of the sentence must reflect the terrible and cruel nature of your crime.
"Neither of you has shown any remorse or a flicker of concern for anyone beyond yourselves. I will not distinguish between the two of you - I will set the punishment part for 23 years."