Fire crews tackle blaze on McGill's bus in Paisley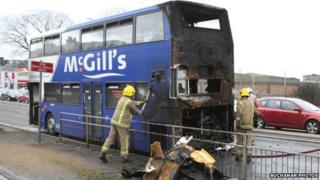 Fire crews have extinguished a blaze on a double-decker bus in Renfrewshire.
The driver of the McGill's bus pulled in on Renfrew Road, Paisley, to report a mechanical fault when the fire broke out just after 12:00.
The company said no passengers were on board at the time when fire crews arrived to extinguish the blaze.
Police attended and the road was closed for almost three hours in the aftermath of the incident, causing delays to local traffic.
A spokeswoman for McGill's Buses said: "Our investigations into the cause of the fire are ongoing.
"We can, however, confirm at this stage that no passengers were on board the bus.
"The driver had reported a mechanical fault with the bus and had been instructed to take the bus out of service.
"The fire started whilst the bus was at the roadside, awaiting our engineering team.
"The driver contacted the emergency services as soon as he noticed smoke emanating from the rear of the stationary bus."