British Museum director to advise on Burrell Collection revamp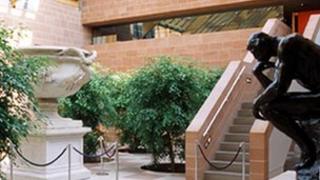 The director of the British Museum is to help oversee the refurbishment of the museum which houses Glasgow's world famous Burrell Collection.
Neil MacGregor will advise project leaders, the Burrell Renaissance group.
The museum will close from 2016 to 2020, with many of its 8,000 exhibits going on tour - against the wishes of the shipping magnate who assembled it.
A private bill at Holyrood will be used to relax the terms of Sir William Burrell's bequest.
Mr MacGregor, who will provide guidance on the redisplay of the collection and its touring, said: "The Burrell Collection tells an inspiring story of a Glasgow that has for centuries been open to the whole world, collecting and studying different cultures, presenting them to the widest possible public.
'Rare opportunity'
"The present building was immediately recognised as a brilliant response to both the quality of the collection and its uniquely beautiful setting.
"That building now needs renovation, but that gives a rare opportunity for parts of the collection to travel. Wherever they are shown, the masterpieces of the Burrell Collection will be eloquent ambassadors for Glasgow."
The collection, which includes medieval, Chinese, French and Islamic art, has been housed in the museum in Pollok Park since 1983.
The refurbishment will see the creation of extra gallery space, allowing more items to be displayed.
Under current plans, the attraction would close in 2016 and reopen four years later.
Lord Kerr of Kinlochard, a former ambassador to the US and head of the Foreign Office, has also been appointed to the group and said he hopes the project will increase the collection's international profile.
He said: "I believe the Burrell Collection is Scotland's special secret and it's high time for it to be more widely shared.
"When I was ambassador in Washington I was shocked to find that so few in the States had heard of it, though the collection is comparable to the famous Frick in New York, and should attract comparable crowds.
"I'm proud to be associated with the imaginative Renaissance plan, an initiative of which Glasgow can be justly proud."
Fundraising programme
The Burrell Renaissance group will be chaired by former National Galleries chairman Sir Angus Grossart.
The team will advise on aspects such as the display of items as well as developing a fundraising programme.
The decision to tour some items belonging to the collection goes against the wishes of shipping magnate Sir William Burrell, who made the donation to the city of Glasgow and feared exhibits would be damaged during transportation abroad.
Glasgow City Council has approved the promotion of a private bill in the Scottish Parliament to change the terms of the original bequest.
It is argued that a tour would reaffirm the collection's status as one of the most important in the world and help with public fundraising efforts toward the cost of the refurbishment.