Thieves steal beds bound for South Sudan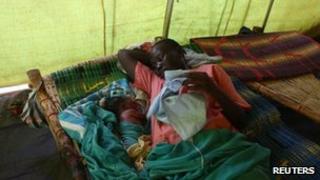 The theft of hospital beds from a Glasgow charity which were bound for South Sudan has been described as "despicable".
The beds were stolen from outside a storage unit in Rutherglen which belonged to Glasgow, the Caring City, between 15 and 23 April.
They were due to be transported to a new maternity clinic in South Sudan.
SNP MSP James Dornan said: "This was a despicable crime with massive implications."
He added: "These beds were for a maternity clinic where women currently have to sit on the floor while receiving treatment.
"This was an opportunistic crime at its worst where the consequences are far-reaching. These beds would have made a massive difference to the wellbeing of women at the clinic."
Lifting gear
A spokesman for Glasgow, the Caring City, said: "The beds had been moved outside to allow for some stock rotation and opportunist thieves made off with the lot, using a truck and lifting gear.
"We don't imagine for a second that these guys have a conscience nor will it have crossed their minds that the beds were destined for a new maternity clinic in South Sudan.
"We don't expect to see the items again. We hope a donor will offer us more to replace those we have lost."
Police have asked anyone with information to contact them.