Sale of Peter Howson works raises £202,000 for daughter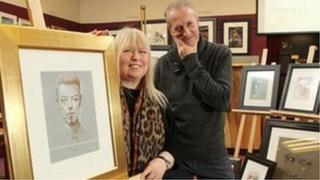 The sale of Peter Howson works by the Scottish artist's ex-wife has taken £202,000 at auction.
Terry Howson sold 390 drawings and paintings to raise money for the couple's daughter Lucie, who has Asperger's syndrome.
The sale at McTear's Auctioneers in Glasgow on Sunday included 10 original drawings of David Bowie.
One of the Bowie drawings sold for £9,500 - almost five times the estimate. The 10 works raised £35,000.
Peter Howson produced the drawings in 1994 when Bowie posed for him at his London studio.
They became friends after Bowie bought two controversial paintings of the Bosnian war by the artist.
Peter Howson said: "There were only 10 Bowie drawings and I gave them all to Terry. None have ever been sold before."
'Charismatic character'
Remembering back to when he drew the musician, he said: "I had him sitting quite high, on a 5ft plinth, and at one point he seemed to doze off and fell to the floor. We had a laugh about it, he's a very charismatic character and we've kept in touch from time to time ever since."
Terry Howson said: "It was difficult to part with a lot of these paintings but the time had come to let others enjoy them."
She added: "Over the years I have built up quite a collection of Peter's art which demonstrates a real mix of his work but Lucie's welfare and future is the most important thing.
"I didn't sell my entire collection and I've held back quite a lot of Peter's work which I hope to hang on to."
Brian Clements, from the auctioneers McTear's, said the sale attracted international attention with bids received from all over the world and the auction house was packed with hundreds of people.
He said: "Peter Howson is one of Britain's most talented and celebrated artists and Terry's collection includes an incredible variety of his work over the last 40 years.
"I am delighted that so many people have been able to purchase a work by this fantastic artist and in the process raise funds to help look after Terry and Peter's daughter Lucie."