Sharkey fire deaths: Murder trial hears of pub fire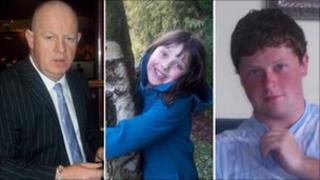 A man who died along with his two children after a house fire was left "gutted" when a pub he was renovating was burned down, a court has heard.
DJ Scott Sinclair, 25, told the High Court in Glasgow he discussed a job at The Mariners pub in Helensburgh with Thomas Sharkey weeks before the blaze.
He was giving evidence at the trial of Scott Snowden and Robert Jennings.
Both men deny murdering Mr Sharkey and his two children by torching their home in Helensburgh in on 24 July 2011.
Thomas Sharkey Jnr, 21, and his sister, Bridget, eight, died in the blaze at their home in Scott Court. Their father, Thomas Snr, 55, died in hospital days later.
Both accused also face a charge of attempting to murder Mr Sharkey's wife, Angela, 48, who survived the fire.
In evidence, barman and part-time DJ Mr Sinclair told prosecutor Alex Prentice QC that he met Mr Sharkey Snr to discuss a job at his pub.
'Devastated and speechless'
The court heard that he and Mr Sharkey met for lunch three times to discuss plans for the venture, which the businessman was "very" enthusiastic about.
After the fire on 19 April 2010, which caused extensive damage to The Mariners, Mr Sinclair said he met Mr Sharkey and that he was "gutted, devastated and speechless".
The court heard Mr Sinclair had also been a part-time DJ at The Garth Inn in Helensburgh the year before, which had also been badly damaged in a blaze.
Later, Sharon Connor, 36, told the court that Thomas Sharkey had spent the evening before the fire at the Ashton Bar in Helensburgh.
Ms Connor, who worked at the Ashton, said Mr Sharkey had been drinking when she came on duty at 17:00. She said it was "unusual" for him to be drinking there at that time.
Ms Connor added: "He was in quite regularly as he was involved in the Smiles for Life charity and on occasion helped behind the bar."
Defence advocate Ian Duguid QC asked Ms Connor if she had been aware of an altercation between Mr Sharkey and a customer the previous evening after the customer had been told they were unwelcome, but Ms Connor said she was not working.
However, she agreed with Mr Duguid that such an action would "not be a function of his".
Mr Snowden, 37, and Mr Jennings, 50, have lodged special defences of incrimination and alibi, with Mr Snowden claiming he was in Mexico when the fire at the Sharkey home was allegedly started, while Mr Jennings claims he was home alone in Helensburgh.
The trial before judge Lord Matthews continues.