Helmand blast: Funeral held for Corporal William Savage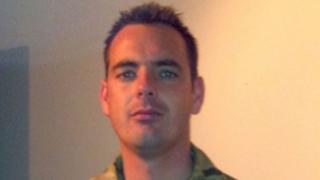 A funeral service has been held for one of three soldiers from the Royal Regiment of Scotland who were killed by a roadside bomb in Afghanistan.
The military ceremony for Corporal William Savage took place at Glencorse Kirk in Penicuik, Midlothian.
The 30-year-old died with Private Robert Hetherington and Fusilier Samuel Flint in Helmand province on 30 April.
Their Mastiff armoured vehicle was hit by an improvised explosive device (IED) in Nahr-e Saraj during a patrol.
Cpl Savage and Fusilier Flint, 21, from Blackpool, Lancashire, were both from The Royal Highland Fusiliers, 2nd Battalion The Royal Regiment Of Scotland (2 Scots).
Pte Hetherington, 25, was from 51st Highland, 7th Battalion The Royal Regiment Of Scotland (7 Scots).
Packed service
Cpl Savage, from Irvine, North Ayrshire, joined the Army in April 2003 and had served in both Iraq and Afghanistan previously.
The latest tour of duty saw him deployed to Afghanistan in March.
His body, and that of his two comrades, were brought back to the UK earlier this month.
The 400-seat Glencorse Kirk was packed for Cpl Savage's funeral, with others sitting outside in specially-erected marquees.
During the service, a speech written by the soldier's wife, Lyndsey, was read out to the congregation.
She said they had planned an "amazing future".
'Secret romantic'
"Sav is the love of my life, it's difficult to put it into words," she wrote.
"What we had was so special. The gap that's been left can never be filled.
"Everybody knows Sav as the joker, the soldier and the happy face, but the Sav I knew was a secret romantic, he had a sensitive side.
"We had so much to look forward to with the birth of our son only weeks away. It was just the start of what would have been our amazing future.
"I always carry Sav in my heart and he will live on through our son, but not a day will go by where I won't miss or think about him.
"Sleep tight, babe, all my love forever, your soul mate, Lyndsey."
The soldier's sister Toni spoke through tears as she paid tribute to her elder brother at the service.
'Guardian angel'
She said: "To the country he was a hero but he was also my hero even before he became a soldier. None of our lives will be the same without him.
"He was my brother, my friend, my bodyguard and now he's my guardian angel.
"Sleep tight, brother, I'll never stop talking and thinking about you, and your niece Ruby will always hear your name and see your face."
A rendition of Caledonia was played during the service and a poem chosen by Cpl Savage's colleagues still serving in Afghanistan was read out.
Called Warriors Ethos, the poem tells soldiers not to fear death.
'Gentlemen and brother'
A regimental eulogy was also read with tributes from colleagues, who joked that Cpl Savage spent most of his time styling his hair and managed to come out of training exercises cleaner than everyone else.
Major Tim Petransky said: "Cpl Savage can be best described in two words: gentleman and brother.
"The qualities synonymous with these two words - decency, comradeship, selfless commitment and unbridled commitment to everything - are ones that sit well with Sav.
"Everyone that came into contact with Sav is better for the experience. He formed strong and lasting friendships, and was happy to go the extra mile for those he cared for."
As the coffin was carried out of Glencorse Parish Church for a private burial, Sexy and I Know It by LMFAO was played over the speaker system.
Cpl Savage's family watched as colleagues from 2 Scots carried the coffin while other soldiers bowed their heads.
The death of Cpl Savage, with Fusilier Flint and Private Hetherington, takes to 444 the number of UK service members to have lost their lives since operations began in Afghanistan in October 2001.
The service for Cpl Savage was the second to be held of the three.
A private ceremony took place in Edinburgh last week for Pte Hetherington, who was born in the US but raised and educated in Scotland.