Natasha Paton FAI: Pupils death was 'preventable'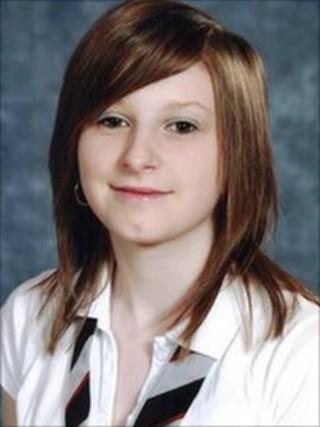 An inquiry into the death of a teenager on a school bus trip has found she may have lived if she had worn a seatbelt and the driver had gone slower.
Natasha Paton, 17, was killed after a coach carrying 39 pupils and five staff from Lanark Grammar School crashed during a snowstorm on 31 March 2010.
The bus hit a bridge and went into a river on the A73 near Biggar.
A fatal accident inquiry (FAI) has ruled that the organisers of the trip should not be blamed.
Natasha, from Cleghorn, South Lanarkshire, was on a trip to the Alton Towers theme park in Staffordshire when the accident happened.
The FAI heard that the coach driver, Raymond Munro, had lost control of the vehicle on Castledyke Bridge in Wiston.
The coach collided with the parapet of the bridge and Natasha was thrown from the vehicle and drowned in the Garf Water.
'Reasonable precautions'
In her determination, Sheriff Nikola Stewart said the organisers of the school trip should not be criticised, despite the trip proceeding in poor and deteriorating weather.
All 49 passenger seats were fitted with lap seat belts and teachers had checked that pupils were wearing them before the coach set off.
A second check was carried out once the journey was under way.
But Sheriff Stewart found that "despite these reasonable precautions not all passengers were wearing their seatbelts at the point of impact".
At least nine pupils, including Natasha, were not wearing a seat belt at the time of impact. Four of them were sitting close to Natasha.
The sheriff identified a number of "reasonable precautions" which may have prevented Natasha's death.
She said the schoolgirl may have lived if the coach driver, Mr Munro, "had travelled at a lower speed on the approach to and turn onto Castledyke Bridge and refrained from applying the brakes whilst negotiating that turn".
Sheriff Stewart said Mr Munro could also have refrained "from attempting to negotiate the turn onto the bridge at a speed of 23mph or more".
She said that if he had "adopted a slower speed, or brought the coach to a halt in preparation to crawling around the corner, the effects of any sudden loss of control could have been ameliorated or mitigated".
The FAI report also said a "reasonable precaution" would have been for "Natasha and those passengers seated in proximity to her" to have "worn the seatbelts provided throughout the journey".
In her report, Sheriff Stewart praised the reaction of those on board following the crash.
She stated: "It is clear from the evidence that staff and pupils, and adult helpers all met the challenges which faced them that morning with admirable fortitude and clarity of purpose, helping others despite having themselves sustained often debilitating injuries."