The Hydro: Opening of £125m Glasgow venue rescheduled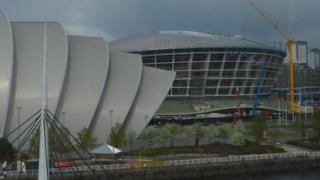 The operator of an under-construction £125m music venue in Glasgow has pushed back its opening - days after denying reports it was behind schedule.
The 12,000 seat arena, known as The Hydro, had been due to host opera singer Andrea Bocelli on 15 September. He will now perform in November.
Performances of Peter Pan in September have been moved to the SECC - Scottish Exhibition and Conference Centre.
This means Rod Stewart will officially open The Hydro on 30 September.
A statement from the SECC, which will run The Hydro, said: "The original timescale for our opening programme has now changed and as a consequence Andrea Bocelli's performance, scheduled to take place at The Hydro on 15 September 2013, has been rescheduled to Saturday 23 November 2013.
"Peter Pan - The Never Ending Story, scheduled to take place on 27-29 September in The Hydro, has been moved to Hall 4 in the SECC. All tickets will remain valid and will be available in due course.
"We are truly grateful to the artists, management, cast and producers for their co-operation in this matter, and in particular for accommodating the exciting opening programme planned for The Hydro."