Sharkey fire deaths: Victim 'got what he deserved'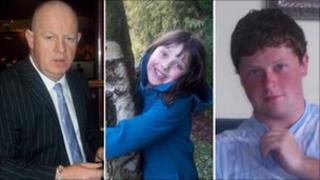 A man accused of murdering Thomas Sharkey and his two children in a house fire is alleged to have told his boss that the father "got what he deserved".
Simon Fraser told the High Court in Glasgow that Scott Snowden made the remark at a restaurant in Helensburgh.
At the time, Mr Fraser was the manager at the Rhu Marina, where Mr Snowden was employed as a berthing master.
Mr Snowden and Robert Jennings deny murdering Mr Sharkey and his children by torching their home in Helensburgh.
Thomas Sharkey Jnr, 21, and his sister, Bridget, eight, died in the blaze at their home in Scott Court on 24 July 2011. Their father, Thomas Snr, 55, died in hospital days later.
Restaurant conversation
Both accused also face a charge of attempting to murder Mr Sharkey's wife, Angela, 48, who survived the fire.
Giving evidence, Mr Fraser told prosecutor Alex Prentice QC that he met Mr Snowden at the Ruby Chinese restaurant in Helensburgh days after the fatal fire.
The court heard that he told police in May 2012: "We started talking and it was me that mentioned what happened to the Sharkey family.
"Scott looked at me and said: 'I've had run-ins with him in the past. I'm not surprised what happened to him. He deserved what he got'."
Mr Fraser told the court: "I said it was horrific what had happened because of the children."
Asked about Mr Snowden's reaction to this, he replied: "He just shrugged his shoulders."
Mr Fraser was then asked if Mr Snowden asked him to do anything. He said: "Keep my mouth shut."
Mr Snowden, 37, and Mr Jennings, 50, have lodged special defences of incrimination and alibi, with Mr Snowden claiming he was in Mexico when the fire at the Sharkey home was allegedly started, while Mr Jennings claims he was home alone in Helensburgh.
The trial before judge Lord Matthews continues.