Sharkey fire deaths: Witness 'delay' in giving police information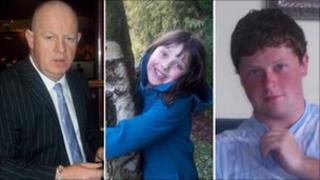 A murder trial has heard a witness, who claimed one of the accused said a house fire victim "got what he deserved", delayed telling police about this.
Simon Fraser, 47, said Scott Snowden made the comments after Thomas Sharkey and his two children died in the fire at their Helensburgh home in July 2011.
The High Court in Glasgow heard he did not tell police about these remarks until his fourth interview.
Mr Snowden and Robert Jennings deny murder by torching the Sharkey's home.
Thomas Sharkey Jnr, 21, and his sister, Bridget, eight, died in the blaze at their home in Scott Court on 24 July 2011. Their father, Thomas Snr, 55, died in hospital days later.
Both accused also face a charge of attempting to murder Mr Sharkey's wife, Angela, 48, who survived the fire.
Restaurant meeting
The court heard previously that Mr Fraser told police in April last year that Mr Snowden said to him at The Ruby Chinese restaurant in Helensburgh, days after the fatal fire, that Mr Sharkey "got what he deserved".
Under cross-examination, defence QC Donald Findlay took Mr Fraser, who is a former manger of the Rhu Marina, back to a statement he made in December 2011.
In that statement, he said: "Scott Snowden has never mentioned to me anything about any fire at all, and specifically the one that murdered members of the Sharkey family."
Mr Findlay said: "Either that is a lie or what you claim he (Mr Snowden) said in The Ruby restaurant is a lie." Mr Fraser did not reply.
The QC told the witness the statement he gave to police in April last year was "vastly different" from everything he had told police before.
Mr Findlay said this was because a friend of his, named in court as Colin Hughes, had made a confession to him of "fairly serious criminal activity".
The defence advocate said Mr Fraser's motivation in going to the police was in a bid to "bail out your good friend Colin Hughes".
He said the disparaging remark he attributed to Mr Snowden had been "made up" as it might be of assistance to Mr Hughes. Mr Fraser replied. "No."
Earlier, Mr Findlay called Mr Fraser a "bare-faced liar".
Bank records
Mr Fraser told the court that the meeting in The Ruby was arranged to repay a £3,000 interest-free loan Mr Snowden had given him some months earlier.
The witness was shown bank records which detailed a withdrawal of £4,500 on 28 June 2011.
Mr Fraser had initially told prosecutor Alex Prentice he had returned the borrowed cash to Mr Snowden within the next day or two.
But, under cross-examination by Mr Findlay, he said he had been "confused" and that he had kept the money in a brown envelope in his house until he met Mr Snowden in the days following the fire.
"It seems you do not know the difference between two days and two months," Mr Findlay told the witness, who replied: "Of course I do."
Mr Findlay read a police statement from May last year in which Mr Fraser told police he withdrew the money to repay the loan in August 2011.
'Bare-faced liar'
Mr Findlay said: "That is just nonsense. You are a bare-faced liar. Do you want me to prove it?"
Following Mr Findlay's cross-examination, Mr Fraser was questioned again by prosecutor Alex Prentice QC.
Mr Fraser admitted that initially he had not told the police all he knew. He was asked why and replied: "I was scared."
Mr Prentice then asked: "Did you tell the police 'I was terrified of repercussions,'" and Mr Fraser said: "Yes."
The witness was then asked if he was telling lies to the jury and he replied: "No."
Mr Snowden, 37, and Mr Jennings, 50, have lodged special defences of incrimination and alibi, with Mr Snowden claiming he was in Mexico when the fire at the Sharkey home was allegedly started, while Mr Jennings claims he was home alone in Helensburgh.
The trial before judge Lord Matthews continues.