Lawyer Gerard Nesbitt jailed over 31kg cannabis haul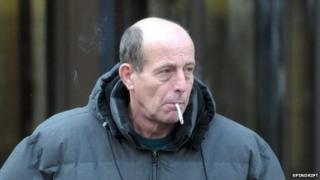 A lawyer who was caught with 31kg of cannabis resin at his Glasgow flat has been jailed for three-and-a-half years.
Gerard Nesbitt, 53, tried to pin the blame on a homeless man, he claimed not to know, who had been using his flat as part of a "favour" to a friend.
But a jury at the High Court in Glasgow rejected this and convicted him and co-accused Iain McKenzie, 38, of being concerned in the supply of cannabis.
McKenzie was jailed for four-and-a-half years over his role.
Jailing Nesbitt, judge Lord Burns said: "You are a 53-year-old man who has devoted quite a large amount of time and energy to improve yourself and became a solicitor at age of about 37."
Profession shamed
The judge told Nesbitt he had "brought shame upon yourself and brought your profession into disrepute" and said it was "tragic" the lawyer now had a serious drug conviction.
A previous hearing heard how the employment lawyer and his accomplice were caught during an investigation by the former Scottish Crime and Drugs Enforcement Agency (SCDEA).
Supermarket worker McKenzie, from the city's Carntyne area, was seen carrying a bag while visiting Nesbitt's tenement flat in Battlefield on 24 May last year.
Police later raided the flat just before Nesbitt and his partner were going to bed.
A large quantity of cannabis resin was discovered under a bunk bed, in a filing cabinet and a kitchen cupboard.
The court heard 31kg of the drug, with a potential street value of £155,000, was found at both the properties where they lived.
Former CID officer Kenneth Simpson - a drug expert - told the jury that was a "huge amount" of cannabis.
Nesbitt, now of Newlands, Glasgow, denied involvement and told the jury a homeless man - who he did not know - had been using his flat in the weeks before the raid as a "favour" to a friend.
Homeless man
Advocate depute James MacDonald, prosecuting, put to Nesbitt: "Do you not understand how ridiculous your position is?
"How ridiculous for a qualified lawyer to say: 'I let in a homeless man, gave him the keys and, while in it, if there was anything put in the house, it was him, not me."
Nesbitt replied: "My position is exactly what I have said."
Mr McDonald said the lawyer's claims would make him the "unluckiest man in Glasgow".
Nesbitt also insisted the first time he met McKenzie was when they initially appeared in court together at the beginning of this year.
The jury did not believe his claims and took a few hours to return a guilty verdict.
It emerged after his conviction that Nesbitt had a previous drugs offence dating from the mid-1980s.