Flat fall man John McGurk jailed for assault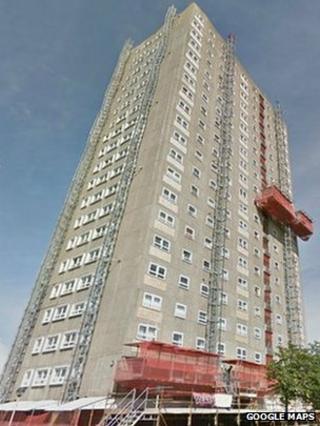 A man who survived a fall from the 14th floor of a Glasgow tower block has been jailed - the day after two men were cleared of attempting to murder him.
John McGurk was jailed for 18 months after he admitted attacking Sean McCann in Paisley's High Street in April 2012.
The 20-year-old also admitted two other charges of assaulting police when he appeared at the town's sheriff court.
McGurk fell from the high-rise in Glenavon Road, Maryhill, in November, after allegedly being assaulted.
On Thursday, at the High Court in Glasgow, Kenneth Wilson, 48, and 20-year-old Jamie Rodger were acquitted of attempting to murder McGurk after prosecutors dropped the charge midway through their trial.
At Paisley Sheriff Court McGurk admitted attacking Mr McCann, punching him on the head and body and causing him to fall to the ground where he was repeatedly kicked in the head.
His victim suffered serious injuries and impairment as a result of the assault.
Legs pinned
McGurk also admitted two other charges of assaulting police on the same day as the attack.
Details of McGurk's fall also emerged at the sheriff court.
His lawyer Michael McKeown told Sheriff Tom McCartney that his client had sustained serious injuries after falling from the high-rise in Glasgow and had to undergo undergo surgery and have his legs pinned.
McGurk, who is partially sighted, now walks with the aid of two crutches.
During the aborted high court trial, the jury heard that McGurk claimed he was assaulted and escaped onto the window sill outside the 14th-floor flat.
It was said he then lowered himself down and hung onto the ledge by his fingertips.
Safety net
McGurk claimed he could not recall what happened next - until he woke up in a hospital bed.
It emerged he had fallen from the window seemingly plummeting to the ground.
He avoided death but sustained serious injuries after crashing onto plywood near the bottom of the high-rise - before dropping onto a safety net.
At the sheriff court Mr McKeown said it was incredible his client had survived, adding: "He will be left with very limited mobility."
McGurk, whose address was given in court as Tharsis Street, Royston, Glasgow, was jailed for three months after he admitted breaching bail conditions previously put in place by the courts.
He was also told he must consecutively serve a 15-month jail term over the assaults.