Police warning over 'toxic ecstasy tablets' in Glasgow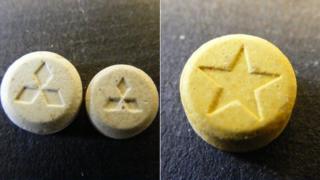 Police have issued a warning about two different tablets being sold as ecstasy in the Glasgow area.
One white tablet, with a Mitsubishi logo imprinted on it, has been found to contain the potentially dangerous chemicals, 5IT or AMT.
The other yellow tablet, with a star logo imprinted on it, similar to the dangerous "Rockstar" tablet, contains the toxic stimulants PMA or PMMA.
Police said people taking the tablets were "gambling with their life".
Det Sgt Michael Miller, of Police Scotland, said: "These two types of tablets are not covered by any form of quality control.
"Forensic tests carried out recently on ecstasy tablets have shown that they contain a cocktail of different substances.
"Any time someone takes an ecstasy tablet, they are gambling with their life.
"I would strongly advise people to avoid such pills and report any information to the police. My message is clear - drugs are dangerous - don't take them."