Sharkey fire deaths: Accused 'made pub blaze threat'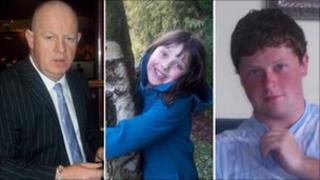 A man accused of murdering three people in a Helensburgh house fire threatened to burn down a pub, a court has heard.
Fay Williams, 36, told the High Court in Glasgow that Scott Snowden made the remarks in the town's Teak and Ash pub following a dispute.
She alleged that he said: "It's sorted and it'll get burned down."
Mr Snowden, 37, and Robert Jennings, 50, deny murdering Thomas Sharkey Snr and his two children by torching their home on 24 July 2011.
Thomas Sharkey Jnr, 21, and his sister, Bridget, eight, died in the blaze at their home in Scott Court, Helensburgh, on 24 July 2011. Their father, Thomas Snr, 55, died in hospital days later.
Both accused also face a charge of attempting to murder Mr Sharkey's wife, Angela, 48, who survived the fire.
Ms Williams, from Wrexham in Wales, told the court she had been in the Teak and Ash pub with her boyfriend Mark Sharkey, his cousin Michael Sharkey and Mr Snowden on 11 July 2010.
CCTV footage
She said that they had been asked to leave because Mark Sharkey was barred.
The court was shown CCTV footage of the incident in which Mark Sharkey is seen throwing two bar stools at the gantry.
Prosecutor Alex Prentice QC asked her: "Did you hear Scott Snowden say something?"
Ms Williams replied: "Yes in the bar after one of the bar stools had been thrown. I was beside the bar and he was beside the snooker table or pool table.
"He said: 'It's sorted and it'll get burned down."
Ms Williams added that she was disgusted by Mark Sharkey's behaviour and said she left the pub when she heard police sirens.
The witness was then asked when she learned about the fire at the Sharkey home and replied that it was in the afternoon of 24 July 2011.
When asked who told her, she replied: "It was Mark Sharkey who phoned to tell me. He was working at the time."
Partner 'incriminated'
Under cross-examination, Ms Williams denied lying to provide her partner with an alibi.
The witness told the court that Mark Sharkey was in bed beside her when the fire swept through the Sharkey's home.
Mark Sharkey, who is her long-term partner, is one of a number of men incriminated by the accused.
Ms Williams told prosecutor Alex Prentice QC that she and Mr Sharkey went to bed at 02:00 after he had taken alcohol and cocaine. She said she had only drunk one alcopop.
She said she awoke on Sunday 24 July 24 2011 between 04:00 and 05:00 and Mr Sharkey was asleep in bed.
Ms Williams added: "I remember because the shops weren't open and I had to wait."
She said that at 06:00 she headed to the Co-op and bought newspapers and soft drinks.
Mr Prentice asked her: "Prior to you waking were you aware of Mark Sharkey going out of his bed," and she replied: "No."
'Cocaine rubbish'
Under cross-examination by Donald Findlay QC, representing Mr Snowden, Ms Williams was asked: "You would cover up anything for Mark Sharkey wouldn't you," and she replied: No."
Earlier in her evidence she said: "I wouldn't lie for Mark Sharkey."
Ian Duguid QC, representing Mr Jennings, asked Ms Williams: "You would think that after taking cocaine at 2am he was thinking of staying up a bit longer," and she replied: "He said the cocaine was rubbish."
The QC then said: "What was his idea taking cocaine at 2am," and Miss Williams said: "When he took cocaine he always wanted more cocaine."
Mr Duguid then asked: "Did he go to bed," and she told the court: "We went to bed together."
Mr Snowden and Mr Jennings have lodged special defences of incrimination and alibi, with Mr Snowden claiming he was in Mexico when the fire at the Sharkey home was allegedly started, while Mr Jennings claims he was home alone in Helensburgh.
Mr Snowden also denies committing a breach of the peace in the Teak and Ash pub in Helensburgh on 11 July 2010.
The trial before judge Lord Matthews continues.