Sharkey fire deaths: Accused threatened to burn down woman's home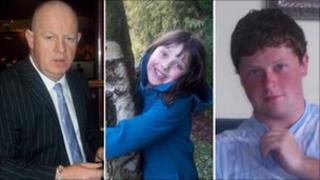 A man has told a court how he sealed up his daughter's letterbox after a murder accused threatened to burn down her home with her and her child inside.
Tim McMahon, 61, was giving evidence at the trial of Scott Snowden, 37, and Robert Jennings, 50.
They deny murdering Thomas Sharkey and his two children by torching their Helensburgh home on 24 July 2011.
Mr McMahon said that after hearing of Mr Snowden's threats he had nailed down the letterbox of his daughter's home.
He told the High Court in Glasgow, Mr Snowden had also threatened to burn down his daughter Claire's pub, the Teak and Ash in Helensburgh.
After hearing Mr McMahon's evidence about nailing down his daughter's letterbox, defence QC Donald Findlay, representing Mr Snowden said: "You were concerned that petrol would be poured through the letterbox," and Mr McMahon replied: "Yes."
Mr Findlay then said: "You and your daughter had concocted a story about Mr Snowden," and Mr McMahon replied: "Nonsense."
The court heard that Mr McMahon, a licensed trade consultant, who has recently completed a law degree was Mr Sharkey Snr's best friend.
He said he saw Mr Sharkey just hours before the blaze and he was the happiest he had been for months.
Mr McMahon said he had met up with him in the Ashton Bar in Helensburgh on 23 July 2011 and they had socialised for a few hours before leaving at about 00:45 on 24 July.
He told the jury of his last minutes with Mr Sharkey saying: "He kissed me. I just wiped my face and said 'goodnight Tommy see you later.'"
He added: "He was very drunk but he was in extremely good spirits. It was the happiest I'd seen him since the stabbing incident."
Stabbed by cousin
This was a reference to Mr Sharkey being stabbed in the back in his home months earlier by his cousin Mark Sharkey.
The court heard that at 06:00 on 24 July Mr McMahon received a phone call telling him about the fatal fire.
He said he went to hospital at about 08:30 to 09:00 but was not able to see Mr Sharkey.
Thomas Sharkey Jnr, 21, and his sister, Bridget, eight, died in the blaze at their home in Scott Court, Helensburgh. Their father, Thomas Snr, 55, died in hospital days later.
Both accused also face a charge of attempting to murder Mr Sharkey's wife, Angela, 48, who survived the fire.
Mr Snowden also denies committing a breach of the peace on 11 July 2010 by threatening to set fire to the Teak and Ash where Miss McMahon was the licensee and also threatening to set fire to her house while she and her child were in it.
The trial continues.