Sharkey fire deaths: Accused 'burned house and pub'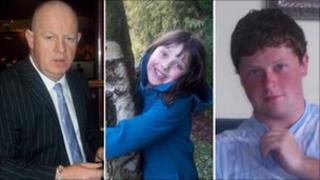 A man accused of murdering three people in a house fire in Helensburgh admitted setting fire to a pub and a house under construction, a court has heard.
Joiner Colin Hughes, 49, told the High Court in Glasgow that Scott Snowden said the pub was "getting torched".
He also alleged the accused admitted setting fire to a house being built in Shandon, near Helensburgh.
Mr Snowden and Robert Jennings deny murdering Thomas Sharkey and his two children by torching their home.
Thomas Sharkey Jnr, 21, and his sister, Bridget, eight, died in the blaze at their home in Scott Court, Helensburgh. Their father, Thomas Snr, 55, died in hospital days later.
'Fire warning'
Both accused also face a charge of attempting to murder Mr Sharkey's wife, Angela, 48, who survived the fire on 24 July 2011.
Mr Hughes told the court that he became friendly with Mr Snowden and would often meet up with him.
The witness claimed that hours before the Garth Inn, in Helensburgh, went on fire on 19 June 2009, he received a call from Mr Snowden around midnight.
The joiner told prosecutor Alex Prentice QC: "He asked me where I was. I said: 'In my friend's house in Rhu.' He said: 'Stay there the Garth's getting torched tonight.'"
Mr Prentice asked: "What did you take the word torched to mean?" Mr Hughes replied: "Going on fire."
Mr Hughes told the court that his friend John Skinner, a retired art teacher, lived above the Garth Inn and was asked if he had alerted him to the danger and replied: "No."
He was then asked by Mr Prentice: "Was any reason given as to why the Garth was getting torched?" He replied: "He said he's been thrown out and made a fool of basically."
Mr Hughes added: "He said about a bouncer. He was going to do him in and make his life a living hell. He also mentioned a barmaid who was cheeky. It was like a ramble. He was angry when he was talking."
The court was told that Mr Hughes met Mr Snowden in Helensburgh after the fire and asked him if he had done it.
When asked what Mr Snowden had said, Mr Hughes replied that he said he did it.
'Security offer'
Mr Hughes said he mentioned his friend Mr Skinner was living in the flat above the Garth Inn.
He was asked what Mr Snowden's reaction to this was and said: "He shrugged his shoulders as if he didn't care."
The witness also told the jury that Mr Snowden said he had offered to provide site security for a house being built in Shandon, near Helensburgh.
He said the accused had been told that a security firm was already in place.
Mr Hughes said that some time later as they were drinking in the Rhu Inn, fire engines raced along the road.
He told the jury: "Scott sort of laughed and said that'll teach them for not taking out my security."
Mr Hughes added: "He told me he had set the fire."
'Drug meeting'
The trial later heard that Mr Snowden had told Mr Hughes he did not like Thomas Sharkey senior.
Mr Hughes told the jury Mr Snowden believed that Mr Sharkey had tried to set him up in a drugs meeting.
The court was told that when drug dealers hand over samples to other dealers for them to test the quality it is normal practice for them to hand over three or four small bags.
That way if they are caught by police they can claim it was just for personal use.
Mr Hughes claimed Mr Snowden told him that Mr Sharkey senior had given him 10 small bags, and added: "He said if he got caught he could have been done for supplying.
"Scott Snowden was angry because because Tommy did that to him. He said there was a police van there but he managed to get rid of it all. He was very, very angry."
He said Mr Snowden said he would "pay him back" for that.
Mr Snowden, 37, and Mr Jennings, 50, have lodged special defences of incrimination and alibi, with Mr Snowden claiming he was in Mexico when the fire at the Sharkey home was allegedly started, while Mr Jennings claims he was home alone in Helensburgh.
Mr Snowden also denies setting a fire at Kingspoint, Shandon, on 3 July 2008, and at the Garth Inn, Helensburgh, on 19 June 2009.
The trial before Lord Matthews continues.