Glasgow Stalled Spaces scheme wins international award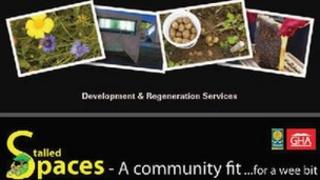 A Glasgow-wide project to bring vacant and derelict land back into public use has been given an international award.
The Stalled Spaces initiative won the 2013 City to City Barcelona FAD (Fostering Arts and Design) Award.
The scheme provides funding and ideas for local people to turn unproductive land into a community asset, such as a play area or green space.
The project grew out of attempts to revamp sites in the city left empty by the onset of the credit crunch.
The prize is awarded each year by Barcelona City Hall and the FAD to recognise the "urban transformation" efforts of a particular city.
Glasgow's work in promoting temporary land use was commended by the jury.
'Role model'
Praise was also given to the project's success in empowering local people to take over the vacant sites.
The Stalled Spaces Initiative was started in 2010 by Glasgow City Council and Glasgow Housing Association.
City council Baillie Liz Cameron said: "Above all, we are seeking, through the improvement of the spaces, open to the people of Glasgow, to activate the economy and the vitality of our communities.
"Glasgow is acting as a role model, inspiring other cities and promoting best practice to other European cities."