Andrew Donlon jailed over death of cyclist Robbie McDonald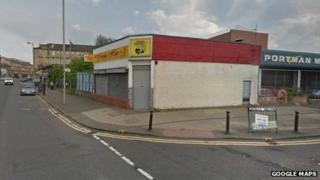 A man who admitted causing the death of a cyclist while driving without insurance has been jailed for a year.
Andrew Donlon, 44, hit Robbie McDonald on Portman Street, near its junction with Paisley Road West, during the evening rush hour on 12 December 2011.
Glasgow Sheriff Court heard how the 22-year-old victim had come off his bike before he was struck by the car.
Donlon, from Pollok, was also disqualified from driving for three years and nine months.
The 44-year-old, who has previous road traffic convictions including a 12-month driving ban, pleaded guilty to a charge of causing the death of Mr McDonald.
Circumstances unclear
The court heard that the cyclist had been seen by witness Lorna Cahill, who was beside him in her car, at the junction on Portman Street.
She began to move out of the junction on to Paisley Road West when she saw Donlon's car driving towards the junction and pass in front of her.
The court was told she heard the sound of a collision as Donlon's car hit Mr McDonald.
Procurator fiscal depute Alasdair Youngson said: "Mr McDonald was at the time over the give way sign. The circumstances relating to this are unclear."
He said eye witness evidence suggested Mr McDonald may have come off his bike or was in the process of coming off by slipping or otherwise.
Mr McDonald was struck by struck by the car being driven by Donlon.
Police arrived at the scene shortly after and found the victim lying on the ground unconscious with no pulse. He was taken to the Southern General Hospital, where he was pronounced dead.
PC Kirstine Orr spoke to witnesses, including Donlon, who did not tell her it was his car that hit Mr McDonald.
He said he was on his way to collect his wife and agreed to give a police statement later.
Mr Youngson said: "She allowed him to continue on his way. He had remained at the locus for around 20 to 25 minutes.
'Plausible' witness
"She found him plausible and was in no way acting suspicious. He engaged with other witnesses and was in fact handing out cigarettes to those who wanted one.
"There was nothing in his demeanour which made her suspicious."
It later became apparent that Donlon and his car may have been involved in the accident.
Police later went to his home where they cautioned him and asked if he was the driver of the car which was involved. He admitted he had been driving on Paisley Road West.
Samples of dark blue paint from Donlon's car were found at the scene and a sample of a similar blue paint was recovered from Mr McDonald's jacket.
The examination of Donlon's car showed damage consistent with impact with a pedestrian who was low on the ground at the time.
Expert police officers believe the collision was as a result of Mr McDonald entering Paisley Road West from the give way junction at Portman Street and falling from his bike into the path of the accused's car.
Investigations into the tax and MOT of the car showed that Donlon was not covered by his insurance.
He was disqualified for a year in January 2010 and in a website application in November 2011 stated that he had not been convicted of a motoring offence and had had no periods of disqualification in the last three years.