Sharkey fire deaths: Witness denies lying to save himself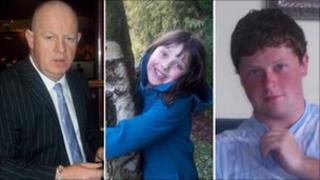 A man who told a murder trial that his friend admitted causing a fire which killed three people has denied lying to save himself from drug charges.
Colin Hughes, 49, was accused by Donald Findlay QC of telling "manipulating lies" to get out of his "predicament".
He previously told the High Court in Glasgow that Mr Findlay's client, Scott Snowden, was behind the fatal fire.
Mr Snowden and Robert Jennings deny murdering Thomas Sharkey and his two children by setting fire to their home.
Thomas Sharkey Jnr, 21, and his sister, Bridget, eight, died in the blaze at their home in Scott Court, Helensburgh. Their father, Thomas Snr, 55, died in hospital days later.
Both accused also face a charge of attempting to murder Mr Sharkey's wife, Angela, 48, who survived the fire on 24 July 2011.
Threat claims
During two previous days of evidence, Mr Hughes has claimed that Mr Snowden told him he was going to burn out Thomas Sharkey Snr.
He also told the jury that Mr Snowden had threatened to shoot or stab Mr Sharkey at a high-profile sportsman's dinner in Helensburgh just three months before the fatal fire.
Under cross examination from Mr Findlay, Mr Hughes denied lying, but admitted he had drip-fed the police information in the course of giving 23 statements.
Mr Findlay said Mr Hughes' evidence had been made up in a bid to prevent him facing charges for drug dealing.
The QC added: "This is just manipulating lies, trying trying to get yourself out of your predicament," and Mr Hughes replied: "No."
Mr Findlay then said: "You can't remember your lies. I want the truth," and Mr Hughes replied: "Your truth or my truth."
Earlier the jury heard that Mr Hughes told the police: "When I was involved with Scott I felt like I was a bit of a gangster about Helensburgh. It made me feel good."
At first Mr Hughes denied saying this and then when he was shown a police statement admitted he had said that.
'Gangster lifestyle'
The witness added: "When I was with Scott I used cocaine. On cocaine you think you're invincible."
Mr Findlay said: "You came on to the drugs scene in Helensburgh and you engaged in the gangster lifestyle," and Mr Hughes replied: "Yes."
Continuing his cross-examination, the QC told Mr Hughes: "All the claims about Tommy Sharkey and shooting were just a story made up coldly, forensically and wickedly by you, that's the truth isn't it," and he replied: "No."
The QC asked: "When did the police tell you your story about the Victoria Halls where you said Tommy Sharkey was going to be shot, done in in some way, was not backed up by the phone records?"
Mr Hughes replied: "They didn't. They showed me the phone records."
Mr Findlay said: "During the course of that night the records show you were pestering Mr Snowden to get cocaine for your pals rather than your version of events which has him texting you for information about Tommy Sharkey. It was a piece of invention on your part for something that never happened to make yourself look the big man." Mr Hughes replied: "No."
Mr Findlay went on: "But when we check it against the phone records it doesn't hold water," and Mr Hughes said: "No."
Mr Snowden, 37, and Mr Jennings, 50, have lodged special defences of incrimination and alibi, with Mr Snowden claiming he was in Mexico when the fire at the Sharkey home was allegedly started, while Mr Jennings claims he was home alone in Helensburgh.
The trial before Lord Matthews continues.