Sharkey fire deaths: Trial hears of 'ammonia attack'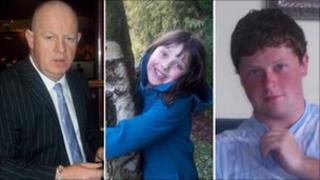 A witness in the Sharkey fire deaths trial has told how one of the murder accused left a Helensburgh pub minutes before he had ammonia thrown at him.
Michael McGinley told the High Court in Glasgow that his family home in the town was set on fire the next night.
The 31-year-old also admitted punching murder accused Scott Snowden in a pub six months before both incidents.
Mr Snowden and Robert Jennings deny murdering Thomas Sharkey and his two children by setting fire to their home.
Thomas Sharkey Jnr, 21, and his sister, Bridget, eight, died in the blaze at their home in Scott Court, Helensburgh. Their father, Thomas Snr, 55, died in hospital days later.
Venezuela connection
Both accused also face a charge of attempting to murder Mr Sharkey's wife, Angela, 48, who survived the fire on 24 July 2011.
The court heard that Mr McGinley had been the licensee of the Teak and Ash bar in Helensburgh in 2006 to 2007.
The witness said that Mr Snowden had been a customer there and knew about his connection to South America, and Venezuela in particular, because of a souvenir kept behind the bar.
Mr McGinley was asked about an incident in the town's Logie Baird pub on 20 June 2010.
He said that Mr Snowden, who was drunk, wanted to talk to him about drugs from South America because he knew he had been there on business.
Mr McGinley said: "He (Mr Snowden) was saying the quality of drugs in Venezuela is the same quality as you can find in Liverpool and there was no point in going to Venezuela. I just said I wouldn't know about that. I gave him the cold shoulder."
The witness then said that Mr Snowden put his arm round his shoulder, squeezed the back of his neck and said that if Mr McGinley ever undermined him again he would kill him.
Mr McGinley told the court that he went into the Argyll Bar in Helensburgh on 5 January 2011 with a friend for a drink.
The court heard that Mr Snowden, who was in the bar when they arrived, left after 30 seconds.
About 15 minutes later a man wearing a balaclava walked up to Mr McGinley and threw the contents of a glass or a bottle into his face.
Difficulty breathing
Mr McGinley said: "It had a very strong ammonia smell. I found it very difficult to breathe. The fumes were going into my mouth. It was very toxic and there was a burning sensation in my eyes."
Mr McGinley said he went to the toilets and doused his face in water for about 30 minutes.
The jury, who were shown CCTV footage of the incident, heard that Mr McGinley suffered no lasting effects.
He told the court that the man who threw ammonia over him was tall and slim and had a completely different build from Mr Snowden.
Mr McGinley said that the next night he was at his home in Helensburgh when he noticed a "very bright light flashing".
When he went to investigate he saw flames around the front door.
Mr McGinley said he went to warn his parents and phoned the fire brigade.
Damage was confined to the porch area of the house.
Safety concern
He told the court that after the fire he went to Ireland for a few weeks or so and added: "It was just to get out of town for the safety of my family."
Under cross-examination by Donald Findlay QC, defending Mr Snowden, Mr McGinley admitted that during the incident in the Logie Baird pub he had punched Mr Snowden and knocked him back about 10 feet.
He was told by Mr Findlay: "I think the reality of this is that you had a pint glass in your hand when you punched Mr Snowden."
Mr McGinley denied this, saying that he had dropped the glass as he threw the punch.
Mr Snowden denies assaulting Mr McGinley in the Logie Baird pub in Helensburgh, on 20 June 2010 and threatening to kill him.
Mr Snowden and Mr Jennings deny inducing William McFall to throw ammonia on Mr McGinley's face in the Argyll Bar, Helensburgh, on 5 January 2011 by offering him drugs and money.
They also deny setting fire to the McGinley family home in Helensburgh, on 6 January 2011 by pouring petrol onto the porch door and floor.
The trial before judge Lord Matthews continues.