Glasgow to tackle payday loan problems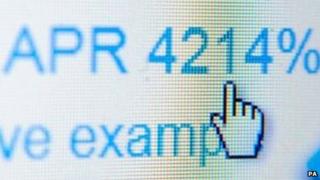 People in Scotland's largest city are borrowing £57m a year from payday loan companies, pawnbrokers and other non-standard lenders.
Research for Glasgow City Council found up to 100,000 people in the city are using these companies.
The council has put together a comprehensive package of measures to try to promote other ways of borrowing.
This will include opening credit union accounts for all new first year students at secondary schools.
Payday loans are legal - but controversial.
They charge relatively high rates of interest while a particular advert for one company, Cash Lady, featuring former celebrity Kerry Katona was recently banned.
Glasgow City Council's carried out detailed research into how people in the city were using such lenders.
It is concerned many people are turning to them even though there may be better - and cheaper - options available, or that payday loans may trap some vulnerable people in a cycle of debt rather than help them out of their financial difficulties.
Researchers working for the council spoke in depth to eight people who shared their experiences of pay day lenders: five were unemployed and one was a student.
One borrowed £1,500 in what was described as one short spree and said she was doing this to support her ill mother who had no income.
Another borrowed £50 and made two fortnightly repayments of £32.50 so the loan "cost" £15.
Credit unions
One part of the city's strategy will be to promote financial education.
This includes advice to help people work out the right ways of dealing with their finances and promoting the role of credit unions.
The council will open credit union accounts for all children entering secondary school and put £10 in their account at a cost of £60,000 a year.
As well as promoting saving, this means they could then have the option of borrowing money from unions in later life - only members can get loans from them.
The council has also banned access to payday loan websites from its computers and says it will not let any properties it owns to these companies - although that move is largely symbolic.
The council argues it is doing as much as it can to tackle what some say is irresponsible lending and is making the point Holyrood and Westminster also have a part to play.
Citizens Advice Scotland welcomed the move by Glasgow Council.
The organisation's Keith Dryburgh said: "CAB evidence is very clear that the growth of payday loans in the last few years has seen a lot of irresponsible lending, which has led many families into the misery of un-manageable debt.
"For people who are struggling to make ends meet, payday loans can seem very attractive. But they have interest rates as high as 4,000%, and these have a huge impact on people who are on low incomes.
"If you miss a payment, the debt can quickly spiral out of control. We also find that many lenders are not being clear about their terms and conditions, are offering loans to people without proper assessment of their income, and are then pursuing debts aggressively."