Funeral held for Nicola and Margaret McDonough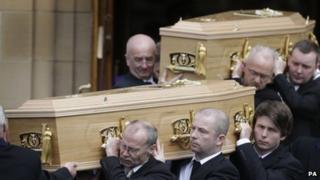 Hundreds of mourners have attended a funeral service for a mother and daughter who died after being found critically injured at a hotel.
Margaret McDonough, 52, and Nicola, 23, were found at Greenock's Premier Inn on the morning of Friday May 10.
Margaret died later that day. Nicola died in hospital three days later.
A requiem mass for the mother and daughter was held at St Mirin's Cathedral, in their hometown of Paisley, Renfrewshire, on Thursday.
No media
At the request of the family, it was a private event with no members of the media allowed access inside the church.
The coffins were in the cathedral overnight.
No family members were scheduled to speak during the 40-minute service, which was conducted by Father John Tormie.
A number of hymns were sung, including Here I Am Lord, Abide With Me, I Watch The Sunrise and Walk With Me.
The readings were from the Book of Lamentations and The Letter of St Paul to the Romans.
At the end of the service, foster carer Margaret's coffin was carried out of the cathedral by her sons Matthew, 20, and Michael, 31.
Nicola's coffin was carried by her father Tom, 52, and brother Kevin, 32.
Afterwards, both women were given a private burial at Hawkhead cemetery, Paisley.
Police investigation
Events surrounding the women's deaths are still being investigated by Police Scotland, who are trying to piece together their last movements.
Officers have previously confirmed they are not looking for anyone else in connection with the deaths.
The pair had been spotted in Paisley on 9 May at about 09:00, before they travelled to the Balloch area in West Dunbartonshire, where they were later seen travelling in a Suzuki Swift vehicle.
It is known that the women checked into the Premier Inn at about 15:50 the day before they were found injured.
They left a short time later and then returned between 00:30 and 01:00 the next day.
Margaret McDonough was a mother of five grown children and was a foster carer. She had stood as a Liberal Democrat candidate in council elections.