Thousands turn out for Glasgow Mela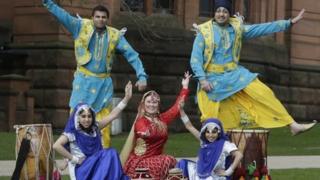 Thousands of people have attended the O2 Glasgow Mela in Kelvingrove Park this weekend.
Organisers said the two-day free event, billed as Scotland's biggest multi-cultural festival, attracted crowds of about 35,000.
Musicians, dancers and performers from across the globe performed.
International singers Foji Gill and Sona Walia lined up alongside Scottish Bhangra group Tigerstyle and Bollywood dancers Desi Bravehearts.
Johnny Kalsi , who performed with his band The Dhol Foundation, said: "That was a blast, this is my first ever Mela and I'm glad it was in Glasgow.
"There were people dancing everywhere you looked, I loved it."
Councillor Soryia Siddique, chair of the event's steering group, said: "The park was awash with colour and pulsating to the incredible beats that emanated from all three stages."
The Mela was launched during the 1990 European City of Culture festivities to celebrate the traditions and customs of the Indian sub-continent.
It now also attracts Brazilian, Oriental and Middle Eastern performers.