Boxer Scott Harrison cleared of domestic charges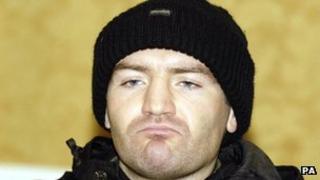 Former world champion boxer Scott Harrison has been cleared of domestic charges.
He was accused of forcing his way into his ex-partner Stacey Gardner's Glasgow home last December, shouting, swearing, damaging a TV and scaring her.
Harrison denied this, and two further charges.
After a trial at Glasgow Sheriff Court, the 35-year-old was found not guilty on all three charges by sheriff Alayne Swanson.
The sheriff told him she had been left with "considerable doubt" about the charges and that the Crown had failed to prove them beyond a reasonable doubt.
The court heard Miss Gardner gave a statement to the police on 30 December, claiming Harrison had "barged" into her house and was shouting and calling her names.
The trial heard that she told officers she was in "fear for her safety", "shaking with fear" and that Harrison kicked her TV.
In her evidence, Miss Gardner claimed she could not remember what she told the police although she said that she would have told them the truth.
However, she admitted that it may have been exaggerated.
When cross-examined Miss Gardner said that she had opened the door to Harrison that morning and that he had not "barged" in.
She said they had an argument and she thought it had been "blown out of proportion".
The former boxing champion had also faced charges of breaching bail by going to the same New Year's party as Miss Gardner and making threats of violence towards her at a police station.