Glasgow major events website aims to cash-in on tourism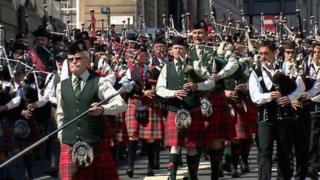 A new website will be launched later to help businesses in Glasgow benefit from major events taking place in the city.
The Glasgow major events site aims to help firms in tourism-related areas to identify and exploit new opportunities.
It will support business owners and staff across the city's restaurants, hotels, visitor attractions, retailers, tour operators and pubs and clubs.
Estimates suggest Glasgow attracts 2.2 million visitors each year, generating £578m for the local economy.
Many of the UK and overseas visitors travel to Scotland's largest city to attend major events such as Celtic Connections, the Glasgow Film Festival, Glasgow International Comedy Festival, Piping Live and the World Pipe Band Championships.
The website was developed by Scottish Enterprise and the city council's marketing bureau to provide an online portal for local firms seeking opportunities.
'Industry standard'
A key feature is its events timeline, which allows users to see what events are coming to Glasgow and when.
The site will also provide anyone looking to bring events to the city with an overview of its venues, facilities and track record.
Glasgow City Council leader Gordon Matheson said: "Using this site, businesses will be able to identify and plan for the many opportunities that major events taking place in Glasgow present - from competing for contracts and accessing visitor information to engaging event organisers directly and developing partnerships - all with the aim of improving their bottom line.
"To our knowledge it's the first site in the UK that will allow them to select venues based on the experiences they offer and not just how big they are or how many people they can cater for, which we believe will become the new industry standard.
"Glasgow has a strong reputation for winning and delivering major events, and this site will become the industry go-to for anyone interested in successfully growing their events business."