North Lanarkshire Council fails in Shore Energy waste plant ruling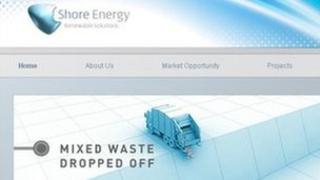 Appeal judges have rejected a council's bid to block a controversial £50m waste plant near the A8 in North Lanarkshire.
Shore Energy was originally refused permission for a 160,000 tonne-per-year waste recycling and renewable energy plant at Carnbroe near Coatbridge.
The firm was given the go-ahead after appealing to Scottish ministers.
North Lanarkshire Council, which received about 6,000 objections, failed to overturn that ruling in a judicial review and has now failed in an appeal.
The authority rejected the advice of its own planning officials when it refused to allow Shore Energy to modernise a former landfill site at Carnbroe.
Health concerns
The council said the applicants had not adequately demonstrated that the facility would have no negative impact on human health.
The authority said there would be an increase in traffic bringing in waste from other areas and North Lanarkshire did not need another processing plant as planning permission had already been granted for two other sites.
The council's decision was welcomed by some 6,000 local objectors.
They had expressed concerns about health risks, particularly for children and nursing mothers.
Following the refusal, Shore Energy took its proposal to Scottish ministers who appointed reporters to investigate the issue.
The result was that Shore Energy's appeal was largely successful, although there were a number of conditions attached to the planning consent.
North Lanarkshire Council then asked for a judicial review of the decision at the Court of Session in Edinburgh, where judge Lord Stewart refused to overturn it.
The council lodged an appeal, which was heard by judges Lord Mackay of Drumadoon, sitting with Lady Smith and Lord McEwan.
They have backed Lord Stewart's decision but added a caution that planning permission alone was not enough to allow Shore Energy to put their proposals into operation.
The planned waste management plant will still need to satisfy industry regulators and obtain permits.
Waste policy
Shore Energy has stated that waste sent to the Carnbroe site will first be sorted to recover material suitable for re-cycling - such as glass, metal and plastic.
What cannot be used again would be used as fuel in a process involving pyrolysis - a high temperate heat treatment of organic material - to generate electricity into the national grid.
The judges at the Court of Session heard arguments based on European directives and the Scottish government's Zero Waste Policy - a commitment to ensure that by 2025 only 5% of refuse would go to landfill.
Other arguments related to the way a new plant would be part of a national network of waste management sites and claims that the decision by the reporters, appointed by Scottish ministers, was flawed.
In the judges' written ruling, Lady Smith said: "This court can only be concerned with the legality of the reporters' decision, not with the merits of the decision to grant planning permission."
She concluded: "The council had not demonstrated that the reporters' decision lacked the requisite validity."
A spokesman for North Lanarkshire Council said: "We are very disappointed at the outcome of the appeal.
"However, the action raised by the council had the full support of elected members across the political spectrum and reflected the wishes of our residents."