Sharkey fire deaths: Accused 'admitted pub blaze'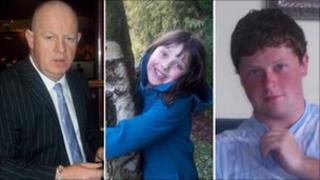 One of two men accused of murdering Thomas Sharkey and his two children in a house fire confessed to burning down the victim's pub, a court has heard.
Mark Sharkey said that Scott Snowden admitted torching the Mariners pub as they walked past the Helensburgh family home of Mr Sharkey - his cousin.
The 38-year-old also admitted stabbing his cousin in the back during a fight.
Mr Snowden and Mr Jennings deny murdering Mr Sharkey and his two children by setting fire to their home.
Thomas Sharkey Jnr, 21, and his sister, Bridget, eight, died in the blaze at their home in Scott Court on 24 July 2011. Their father, Thomas Snr, died in hospital days later.
Both accused also face a charge of attempting to murder Mr Sharkey's wife, Angela, 48, who survived the fire on 24 July 2011.
In evidence, Mr Sharkey told prosecutor Alex Prentice QC that on 1 July 2010, he was out drinking in the company of Mr Snowden.
'Stop staring'
He told the jury that as they were walking to the Teak and Ash pub in West Princes Street, they walked past the Sharkey's home.
Mr Prentice asked: "What happened," and Mr Sharkey said: "Mr Snowden made a comment as we passed Thomas's window 'It was me that burned your pub down'.
"He was looking at Thomas's house, at his window."
At this point Mr Sharkey said to the judge that Mr Snowden kept looking at him.
He said: "Can you tell him to stop staring across at me. I don't feel comfortable."
Lord Matthews replied that he could not tell the accused what to do.
Mr Sharkey, who is a roofer, was asked why he had never told police of the remark he claimed Mr Snowden made and replied: "It all came back to me now I've stopped using cocaine and my mind is getting clearer."
Mr Prentice then asked if he had reacted to the comment and Mr Sharkey replied: "No, because he'd been saying it all day and I thought it (the pub fire) was an electrical fault.
"That wasn't the first time he had mentioned it, he had mentioned it earlier in the Teak and Ash the first time we were in."
Mr Sharkey told the court that when they tried to enter the Teak and Ash the second time they were told to leave and he threw two bar stools at the gantry.
Family fight
He also admitted stabbing Thomas Sharkey Snr in the back in his Scott Court home on 6 February 2011.
Mr Sharkey said that he phoned Thomas Sharkey Snr and asked him to come out for a pint and then had an argument in which the deceased said: "If you come up here I'll kill you."
The witness added: "I thought instead of arguing on the phone I'd go up and speak to him."
He told the court that he opened the door to the Sharkey family home and walked in.
He claimed he found Thomas Sharkey Snr in the kitchen armed with two knives.
Mr Sharkey added: "The next thing I got stabbed in my arm. It went right through."
He said there was a scuffle, he then punched Thomas Sharkey and he dropped one of the knives.
Mr Sharkey picked up the knife and added: "I just swung it round and hit him on the back."
The court was told that after this incident the two men did not speak and ignored each other.
Mr Sharkey said: "My father tried to sort it out but Thomas wasn't interested, so we were just told to ignore each other."
The witness is one of the men blamed by the accused for setting the fatal fire at the Sharkey's home.
Cocaine deal
Under questioning by Mr Prentice, he said: "I never killed Tommy Sharkey and his kids."
He said that he had nothing to do with the fatal fire.
Mr Sharkey said that on the night the blaze took place, he went to Bellsmyre in Dumbarton by taxi with his girlfriend Fay Williams to buy cocaine and returned home after midnight.
Mr Sharkey said they had a few drinks and he took the cocaine, which he described as "rubbish" before going to bed at about 02:00.
Mr Prentice asked him: "Did you leave your flat," and Mr Sharkey replied: "No, not at all."
He added that when he heard what had happened: "I felt sick."
Mr Sharkey was then shown a CCTV clip showing a man walking across the junction of John Street and Princes Street, Helensburgh, in the early morning of 24 July 2011.
This was broadcast on the BBC's Crimewatch programme and Mr Sharkey was asked if he recognised the person and replied: "I was 80% certain it was Robert Jennings because of the way he walks."
Under cross-examination, Donald Findlay QC, representing Mr Snowden, said to Mr Sharkey: "It would be difficult to talk about the man you murdered," and he replied: "I never murdered Mr Sharkey or his kids."
The QC then suggested: "You may not have done it, but you were behind it weren't you," and Mr Sharkey said: "No, not at all."
Defence teams for Mr Snowden and Mr Jennings have lodged special defences of incrimination, blaming among others Mark Sharkey.
Mr Snowden and Mr Jennings deny all the charges against them.
The trial before Lord Matthews continues.