Royal navy aircrew rescues sick baby in Argyll village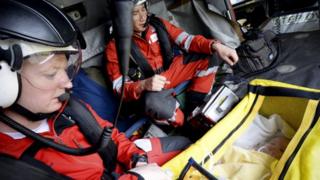 A Navy search and rescue helicopter was diverted from a photography exercise to rescue a sick baby from a shinty pitch in Argyll, it has emerged.
Max MacRaild's parents called for help on 14 June after he started displaying symptoms of suspected meningitis.
The crew from HMS Gannet in Ayrshire was called in because the Dunoon Hospital air ambulance was in Aberdeen.
Max was airlifted from Strachur and treated at Glasgow's Yorkhill Hospital. He fully recovered and is back home.
The crew from HMS Gannet were on a two-day exercise with Royal Navy photographers when they received the call to help Max.
'So relieved'
They collected two doctors from Glasgow's Sick Children's Hospital at Yorkhill before flying to Strachur on the Cowal Peninsula.
The helicopter set down on the village shinty pitch and collected Max and his parents, Rebecca and Neil.
The doctors provided immediate care before 16-week-old Max was taken to hospital for more treatment.
Max's mother Rebecca said: "I was so relieved to see the Royal Navy helicopter arriving, as I was initially told that the air ambulance from Dunoon Hospital was in Aberdeen and would be unavailable for more than three hours.
"At the time I was so worried about Max. I was also a bit surprised to see Royal Navy on the side of the helicopter, as I was unaware they provided such an invaluable service.
"I can only say that without the professionalism and support provided by the very kind members of the Royal Navy search and rescue crew and accompanying doctors, things might have turned out very differently."
Max has since made a full recovery and is now back at home with his parents.