New £500,000 pontoons open at Girvan Harbour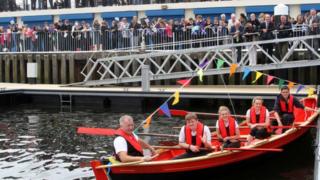 New pontoons with berths for up to 35 vessels have been officially opened at Girvan Harbour.
The £500,000 structures are equipped with electricity and water supplies for visiting boats and have secure access.
They were funded by the Sail West project, Scottish Enterprise and South Ayrshire Council.
One of the aims of the project is to promote marine tourism between the west of Scotland, Northern Ireland and the Republic of Ireland.
Councillor John McDowall, depute leader of South Ayrshire Council, said: "We have a terrific marine resource here in Girvan and these new pontoons will ensure it is used to its full potential whether for fishing, local business, tourism or leisure.
"I'm delighted we now have a modern harbour area that can be enjoyed by many more sailors and I hope this encourages them to stop off and spend some time with us both here in Girvan and across Ayrshire."