Bearsden WWII bomb alert was false alarm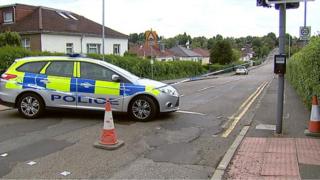 A suspected bomb alert in East Dunbartonshire has turned out to be a false alarm, police said.
Explosives experts were called to an address in West Chapelton Drive, Bearsden, at about 13:20 after a gardener thought he had dug up an unexploded World War II bomb.
Police cordoned off the area and neighbouring homes were evacuated.
But a bomb disposal team from the Faslane Naval Base on the Clyde declared the object safe.
A Police Scotland spokeswoman said: "It ended up being a false alarm with good intent.
"The explosive ordinance disposal team came out but it was an inert object so all has been stood down. It wasn't a bomb."