Supreme Court to hear appeal in midwives abortion case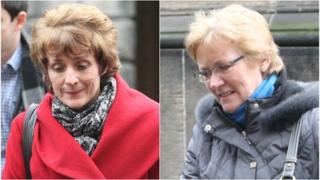 The case of two midwives who object to taking part in any work associated with abortions is to be heard by the UK's highest court.
Mary Doogan and Connie Wood, who are Roman Catholics, won the last round of their legal challenge at the Court of Session in Edinburgh.
The case will now be considered by the Supreme Court after NHS Greater Glasgow and Clyde lodged an appeal.
As conscientious objectors, the women have no direct role in abortions.
They successfully argued they should not be asked to delegate, supervise or support staff involved in the process.
Both women were employed as labour ward coordinators at the Southern General Hospital in Glasgow.
They had registered their conscientious objection to participation in pregnancy terminations years ago, under the Abortion Act, but became concerned when all medical terminations were moved to the labour ward in 2007.
'Appropriate respect'
At the time of the original ruling, Ms Doogan had been absent from work due to ill health since March 2010 and Ms Wood had been transferred to other work.
The judge, Lady Smith, found that the women were sufficiently removed from involvement in pregnancy terminations to afford them appropriate respect for their beliefs.
Their employer, NHS Greater Glasgow and Clyde, had argued that the right of conscientious objection was a right only to refuse to take part in activities that directly brought about the termination of a pregnancy.
In the appeal ruling in favour of the women, Lady Dorrian, with Lords Mackay and McEwan, said: "In our view the right of conscientious objection extends not only to the actual medical or surgical termination but to the whole process of treatment given for that purpose."
After that decision, Ms Doogan and Ms Wood voiced their delight and said the ruling affirmed the rights of all midwives to withdraw from a practice that would "violate their conscience".
The appeal at the Supreme Court will concern the scope of the right to conscientious objection under the Abortion Act 1967, and in particular the decision of the appeal judges to allow this to include the supervision of staff in the provision of care to patients undergoing termination.