Sharkey fire deaths: Murder trial hears of rescue efforts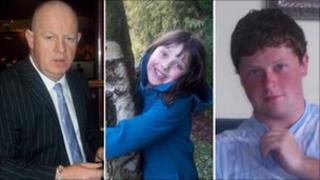 The Sharkey fire deaths murder trial has heard how emergency crews battled through dense smoke in a bid to rescue family members.
Firefighter Stuart Ross, 29, described how in July 2011 colleagues carried out a woman, young man and girl, all unconscious or with no signs of life.
Mr Ross said the flat in Helensburgh was completely black with smoke.
Scott Snowden, 37, and Robert Jennings, 50, deny murdering three members of the Sharkey family by torching their home.
Thomas Sharkey Jnr, 21, and his sister, Bridget, eight, died in the blaze at their home in Scott Court on 24 July 2011. Their father, Thomas Snr, 55, died in hospital days later.
Both accused also deny a charge of attempting to murder Mr Sharkey's wife, Angela, 48, who survived the fire.
'Completely blackened'
Mr Ross was shown photographs of the charred doorway and internal stairs in the flat.
The witness said that as he went into the flat for the first time other firefighters were coming out towards the front door.
He added: "One of the BA [breathing apparatus] crew came out with a boy. They were just coming down the stairs and we helped them out with the boy."
Prosecutor Alex Prentice QC asked: "Later did you discover who this was?" and Mr Ross said: "Young Thomas."
The prosecutor went on: "Was there any sign of life?" and Mr Ross replied: "No."
The firefighter said that he went back into the flat for a second time and described the conditions as "completely blackened out with smoke".
This time he went upstairs and came across one of his colleagues with Angela Sharkey in his arms.
Mr Ross said he assisted his fellow firefighter out with Mrs Sharkey and added: "There was no sign of life. She was unconscious."
The jury heard that Mr Ross went back into the building for a third time and a colleague came downstairs.
Mr Ross said: "I found out afterwards he had a little girl in his arms." He was asked if she showed any signs of life and replied: "No."
Warning bid
Earlier, a serving soldier told the trial how he alerted neighbours after seeing flames coming from the family's Helensburgh home.
Daniel Court, 21, of the Royal Battalion of Scotland, said that he had been having sex with a woman in a lane.
He said as they walked back towards John Street, he saw flames coming from Scott Court.
Giving evidence, Mr Court was asked what he saw and replied: "The door was ablaze and fire and smoke was coming out of it. The only place it was coming out of was the door."
Mr Prentice asked: "What did you do," and Mr Court said: "I went up the stairs chapping people's doors telling them there was a fire and to get out."
The soldier said that he heard shouts of help from the front of the building.
He told the court that two other men turned up and he gave one of them a boost up onto the flat roof to see if he could help the person.
Mr Court added: "I could still hear someone shouting 'help'."
He was asked if he had approached the blazing door and said he had not.
The jury heard that minutes before Mr Court had had sex with a woman in a nearby lane behind the Masonic Halls.
Mr Court added: "Afterwards we had a cigarette and talked for about 10 minutes before walking out of the lane."
Under cross-examination, Ian Duguid QC asked: "Did you see anyone running away as you walked down the lane?" and he replied: "No."
The QC then asked: "Did anything come to your attention while you were having your cigarette?" and he again replied: "No."
Mr Duguid then said: "All the time you were there at the back of the Masonic Hall having sex there is no noise?" and Mr Court replied: "I didn't hear nothing, no."
Mr Snowden and Mr Jennings deny all the charges against them.
The trial before Lord Matthews continues.