Sharkey fire deaths: Cousin denies role in fatal blaze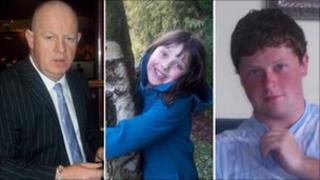 The cousin of a man who died after a fire which killed his two children has denied any involvement in the blaze.
Michael Sharkey, 27, from Helensburgh, told the High Court in Glasgow that he had fallen out with Thomas Sharkey Snr prior to the fire on 24 July 2011.
Under cross examination, he said: "I know nothing about the fire."
Scott Snowden, 37, and Robert Jennings, 50, deny murdering Thomas Sharkey and his two children family by torching their home in Helensburgh.
Thomas Sharkey Jnr, 21, and his sister, Bridget, eight, died in the blaze at their home in Scott Court. Their father, Thomas Snr, 55, died in hospital days later.
Family rift
Both accused also deny a charge of attempting to murder Mr Sharkey's wife, Angela, 48, who survived the fire.
Mr Sharkey told advocate depute Alex Prentice QC, prosecuting, that at the time of the fire he and Thomas Sharkey Snr were not speaking.
He told the jury they had a heated argument in the Ashton Bar in Helensburgh in January or February 2011 after Mr Sharkey Snr said he would not by attending Michael Sharkey's sister's wedding.
The witness said he did not feel it was his place to say that to his sister and added: "I never spoke to Tommy after that."
He said: "Tommy was an easy man to get on with, but also an easy man to fall out with."
The court heard that on the night of 23 July 2011, Michael Sharkey consumed at least 14 pints and also took cocaine.
During the evening and night he visited a number of people in the Kirkmichael area of Helensburgh.
He said the first time he knew anything about the fire was about 09:00 on 24 July 2011, when he and relatives began to receive calls about what had happened.
Defence QC Donald Findlay, representing Mr Snowden, asked Mr Sharkey: "You turned up at the house of George Murray agitated, the night before Thomas Sharkey's house is burnt down and two children killed and you tell the Murrays you have something to tell them," and he replied: Nope."
The QC went on: "You repeated it a number of times and when Mr Murray asked you what it was about you said: 'You'll find out tomorrow'."
'Lovely kids'
Mr Sharkey said: "That's not true," and added: "I know nothing about the fire."
Mr Findlay then said: "You may have had nothing to do with the actual fire, but you knew something very, very bad was going to happen on the night going into 24 July 2011," and Mr Sharkey replied: "Not at all. I knew nothing about the fire."
Mr Prentice then asked Mr Sharkey if he had had any issue with Thomas Sharkey Snr's wife Angela or their children Thomas Jnr and Bridget and he said: "No."
He added: "They were just lovely kids. I played golf with young Thomas on a number of occasions."
The prosecutor then asked: "What would you have done if you had had any knowledge of the fire," and Mr Sharkey said: "I would have gone straight to the police and told Thomas himself, but I had no knowledge."
The jury also heard about a police statement given by Ian Kyle, who has since died.
In this Mr Kyle said he was a friend of Mr Snowden and claimed he was asked by him to buy petrol.
Mr Kyle stated that he bought £3 of petrol, which he put in a petrol can and was told to leave it outside the rear of his flat in East Clyde Street.
After doing this he claimed he sat watching television until 03:00 and around then heard fire engines going past.
In his statement he said the next day he saw the Mariners pub had been gutted by fire.
Hooded top
Sgt Laura Carnochan, one of the police officers who took the statement from Mr Kyle, was asked by Mr Findlay: "There is not a scrap of independent evidence to back up with he said," and she replied: "No."
The court also heard from Thomas Sharkey Snr's sister, Mary Montgomery, 47.
She said a figure seen in video evidence from John Street in Helensburgh on 24 July 2011 had a walk similar to that of Mr Jennings.
Mrs Montgomery also said the man in the video wore a hooded top and she often saw Mr Jennings wearing a grey hooded top when he took his children to school.
Ian Duguid QC, representing Mr Jennings, said to the witness: "If I said to you that Robert Jennings has never owned or worn a grey hoodie, what would you say to that," and she replied: "I would say it was rubbish."
Mr Snowden and Mr Jennings also deny torching the Mariners pub in West Clyde Street, Helensburgh, on 19 April 2010 as well as the other charges against them.
The trial before Lord Matthews continues.