Sharkey fire deaths: Detective questioned on expert status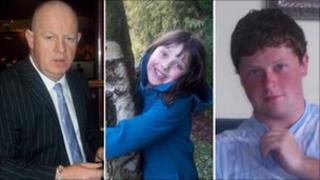 A police CCTV analyst has admitted to a triple murder trial jury that she is not an expert on how people walk.
Det Con Jennifer Bell was giving evidence at the trial of Scott Snowden, 37, and Robert Jennings, 50.
They deny murdering Thomas Sharkey Snr, 55, his son 21-year-old Thomas Jnr and his eight year-old sister Bridget at their home in Scott Court, Helensburgh, Argyll, on 24 July, 2011.
She had earlier told the High Court in Glasgow that she recognised Jennings.
The officer claimed he was the person caught on CCTV cameras in Helensburgh before and after the fatal fire because of his walk which she described as a kind of "shuffle".
But when asked by defence QC Ian Duguid, representing Jennings, if she was an expert in people's gait, she replied: "In gait analysis, no. I don't have any formal qualification but I have viewed footage hundreds of times."
Det Con Bell claimed that when she saw Jennings walking down a corridor in Govan police station she recognised the walk.
Mr Duguid said: "Was that the only opportunity you had to see Mr Jennings walk in the flesh?"
She replied: "It's the only time I have ever met him."
She was then asked if she was watching him from behind and replied: "That's right."
Hooded figure
CCTV images, taken at the junction of John Street and West Princes Street, Helensburgh, on July 24, 2011, which have been shown to the jury many times, show a hooded figure side on.
Det Con Bell was asked why she was in the cell area at Govan while Jennings was being processed.
She said: "I was part of a team. I assisted because there was no one else available."
It was suggested by Mr Duguid that female officers were not involved when men who are detained are removing clothing for analysis.
She replied that Jennings removed his clothing in a cell and she waited outside.
Det Con Bell said when he left the cell, dressed in other clothes, she saw him walk down a corridor for a few seconds.
Asked by the QC why this footage was not shown to the jury, Det Con Bell replied: "I believe it may have been down to the operator who did not download it properly."
Later, prosecutor Alex Prentice QC asked the officer: "How many years have you spent watching CCTV images?"
She replied: "Seven years."
He then asked: "You have watched the figure on the CCTV footage from the junction of John Street and West Princes Street and you looked at it hundreds of times?"
DC Bell said: "Yes, that's correct."
Snowden and Jennings, 50, also deny a charge of attempting to murder Mr Sharkey's wife, Angela, 48, who survived the fire.
The trial before Lord Matthews continues.