Glasgow Airport has busiest June in five years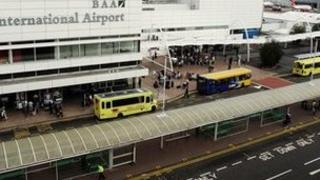 Glasgow Airport enjoyed its busiest June for five years.
There was a surge of travellers to sunshine destinations including the Balearics, Canary Islands, Portugal and Turkey as tourists escaped poor weather at home.
International traffic was up 5.2% while domestic business also rose by 5.7%.
Managing Director Amanda McMillan said: "It is an exciting time for Glasgow Airport with news of further passenger growth."
Also contributing to the overall 5.4% increase in travellers on 2012 was a rise in demand for Virgin Atlantic's direct flights to Florida, Canadian Affair's Toronto service and the twice daily Emirates service to Dubai.
From Glasgow, 30 airlines serve more than 100 destinations.
Aberdeen Airport also recorded solid growth in June, with travellers up 8% on 2012 to just over 300,000.
Edinburgh Airport reported record-breaking figures earlier this week after its busiest ever June with more than 950,000 travellers, up 8.4% on 2012.