Sharkey accused 'in Mexico at time of fatal fire'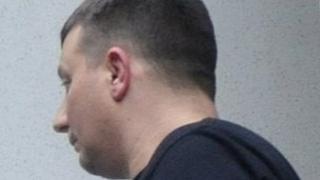 One of the men accused of murdering three members of the Sharkey family was in Mexico when the fatal fire took place, his trial has heard.
The fire broke out at the Sharkey family home in Scott Court, Helensburgh, at 17:00 on 24 July 2011.
The High Court in Glasgow heard accused Scott Snowden was on a two-week holiday with his wife Gillian at the time.
Mr Snowden, 37, is standing trial alongside Robert Jennings, 50.
They deny murdering Thomas Sharkey, 55, his son 21-year-old Thomas junior, and his eight year-old daughter Bridget.
The defence case for Mr Snowden opened with a joint minute of agreed facts being read to the jury by junior Owen Mullan.
Hilton Hotel
It stated that Mr Snowden and his wife returned to Glasgow Airport at 06:00 on the morning after the fire at the Sharkey home.
Jurors also heard that Mr Snowden was not in the Helensburgh area when four fires - including the fatal fire - took place and that he was at work miles away when a man was slashed.
When the Mariner's pub, which was owned by Tommy Sharkey senior, went on fire on 19 April 2010, Mr Snowden was staying at the Airth Castle Hotel with his wife.
And he was staying at the Hilton Hotel, in Glasgow, on 19 June 2009 when the Garth Inn in Helensburgh went on fire, and at the Crown Plaza Hotel in Liverpool on 6 September 2009, when a house in Rhu called the Steeple was set on fire.
The court heard that when 58-year-old Richard McKinney was slashed in the driveway of his home in Luss Road, Alexandria, on 20 January 2010, Mr Snowden was working at Rhu Marina.
The trial before Lord Matthews continues.