Sharkey trial: Man 'claimed he ordered Helensburgh bar blaze'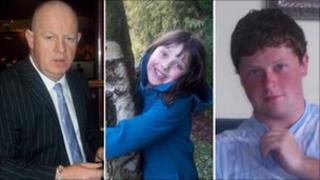 A woman has told a triple murder trial a man boasted he had a bar burned down.
A man called Lee McCarthy, 31, told barmaid Nina Young, 31, he ordered the blaze at the Mariners pub.
It was owned by Thomas Sharkey Snr, 55, who later died in a fire at his family home in July 2011.
Ms Young was giving evidence at the trial of Scott Snowden, 37, and Robert Jennings 50, who deny murdering Mr Sharkey, his son Thomas Jnr, 21, and daughter Bridget, aged eight.
They have also lodged special defences of incrimination against Mr McCarthy, 31, and others.
Miss Young said she had worked as a barmaid at the Logie Baird pub in Helensburgh.
She was asked by Donald Findlay QC, defending Snowden: "Did Mr McCarthy say anything about the Mariners pub which was owned by Tommy Sharkey Snr either before or after the fire?"
She replied: "After. He said he was the one that got it burned down and he had paid someone to do it."
Shoulder holster
Miss Young also claimed that on one occasion in the pub Mr McCarthy showed her a gun which she said he had in a shoulder holster.
She added: "He said he was meeting Tommy Sharkey to sort things out."
Earlier, she told the court the two men - Mr McCarthy and Mr Sharkey - did not get on.
Under cross-examination Alex Prentice QC, prosecuting, asked Miss Young: "How quickly did the police arrive at the pub after you phoned to say Mr McCarthy had a gun."
She replied: "They didn't."
Mr Prentice asked: "Did they fail to come?"
She replied: "I didn't tell anyone. I didn't wish to be involved."
Mr Prentice then asked: "A man shows you a gun in a holster and then says he's going to see Tommy Sharkey to sort things out - how would you have felt if Tommy Sharkey had been shot by Lee McCarthy?"
Miss Young replied: "In hindsight, I would have felt bad. I thought it was just talk."
In addition to the triple death blaze, Mr Snowden and Mr Jennings also deny burning down Mariners pub in West Clyde Street, Helensburgh, on 19 April 2010.
The jury also heard extracts from a statement made to police by Steven Epsworth. He claimed Lee McCarthy had asked him if he would be willing to smash windows or carry out a petrol bombing for him.
Mr Epsworth told the police he said he was not interested.
Another witness William Nagy, 26, from Helensburgh, was asked by defence QC Ian Duguid, representing Mr Jennings, if he had watched a Crimewatch programme which featured the fatal fire and he said: "Yes."
Asked if he recognised a person on CCTV footage seen walking across the junction at John Street around the time of the fatal blaze he replied: "I believed it was Steven McKeown. I saw him on a daily basis. I believe the person walked the same as him."
Mr Snowden and Mr Jennings also deny attempting to murder Mr Sharkey's wife Angela, 48, who survived the fire in which her family perished at their home in Scott Court, Helensburgh, Argyll.
The trial before Lord Matthews continues.