Jane McCormick overcomes heart warning to complete English Channel swim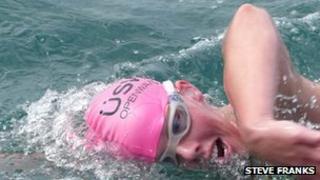 A Scottish swimmer has completed an English Channel swim for the second time to raise money for charity.
Jane McCormick, 31, took part in the challenge, as part of a team of six, to raise money for the British Heart Foundation.
Three and a half years ago she was diagnosed with a serious heart condition and told she could not swim competitively again.
The six-person relay team completed the swim in 18 hours 13 minutes.
Ms McCormick said: "Swimming together in the team was an amazing experience and rewarding in a different way to working on your own.
"I was told I would never be able to reach my full potential after the diagnosis but I continued to train and have swum the English Channel for the second time."
Ms McCormick, originally from Fenwick, East Ayrshire, has completed a series of open swimming challenges for charity over the years.
She last swam the channel in 2005 in aid of Headway, a charity for survivors of brain injury.
Team Work
She said: "The difference with this challenge compared to the last time was - we hammered it because we were part of a team rather than doing it slower as you may do when you're on your own.
"As part of a team you don't want to let anyone else down so you 'spur' yourself on a little more."
Three and a half years ago she was diagnosed with a serious blocked heart condition and was told she would not be able to swim competitively again.
However, she continued to believe it would be possible and even trained for her most recent swim while she was pregnant and just after giving birth.
She swam six miles every day throughout her pregnancy and completed 30 miles just a week after giving birth to her son.
Ms McCormick, a sales rep, currently lives in Levenshulme, Manchester, with her family.
The team set a target to raise £10,000 for the British Heart Foundation.
On Sunday a swimmer from Barwell, Leicestershire, died after she "suddenly collapsed" on the final part of her Channel swim.
Susan Taylor, 34, was doing the 21-mile (34km) endurance test to raise money for Rainbows Hospice in Loughborough and Diabetes UK.
Ms Taylor was swimming under the guidance of the Channel Swimming Association - which officially authorises crossing attempts - when she got into difficulty near the French coast.