Sharkey trial: Fire evidence 'dangerously flawed'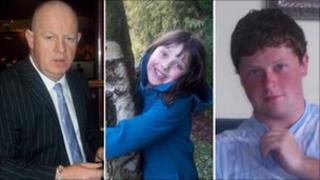 The jury in the Sharkey fire deaths trial has been told that evidence which allegedly identifies murder accused Robert Jennings is dangerously flawed.
Mr Jennings QC, Ian Duguid, said CCTV images reportedly showing him near the scene of the fire were "poor quality" and did not show facial features.
Mr Duguid's was making his closing speech at the High Court in Glasgow.
Mr Jennings and Scott Snowden deny murdering three members of the Sharkey family by torching their home.
Thomas Jnr, 21, and Bridget, eight, died in the blaze at their home in Scott Court, Helensburgh, on 24 July 2011. Their father, Thomas Snr, 55, died in hospital days later.
'Unusual case'
Both Mr Jennings, 50, and Mr Snowden, 37, also deny a charge of attempting to murder Mr Sharkey's wife, Angela, 48, who survived the fire, and a number of other separate charges.
The prosecution claims that Mr Jennings is the person who set the fire at 05:00 while the Sharkey family was asleep.
The Crown case also alleges that a person seen walking in CCTV images across the junction at John Street, Helensburgh, towards Scott Court minutes before the fire was set, and then walking away from the direction of Scott Court, is Mr Jennings.
In his closing speech Mr Duguid said: "This is an unusual case. This is a case where there is a poor quality CCTV footage and you can't identify facial features.
"Mr Jennings, if he is identified, it is by his walk."
The QC said that the prosecution had consulted four experts and asked them to give an opinion, without success.
He told the jurors: "What the prosecution ended up with was Detective Constable Jennifer Bell."
DC Bell said in evidence that after examining the CCTV footage for weeks she saw Mr Jennings in a police station and claimed he was the person on the clip because of the distinctive way he walked.
"She is no better than you or I at identification. It is not an exact science," said Mr Duguid.
"She said she had never seen anyone else in the world walk like that."
Local rumour
The QC added that in the trial other witnesses had identified the person in the CCTV footage as Christopher McCrae, James Elvin and Steven McKeown.
He suggested that many of the people who said the person was Mr Jennings had been affected by rumour and speculation sweeping Helensburgh.
Mr Duguid told the jury that to identify Mr Jennings as the person who started the fire would be no more than a guess.
The trial before Lord Matthews continues.