Former Glasgow MP Mohammad Sarwar set for Pakistan role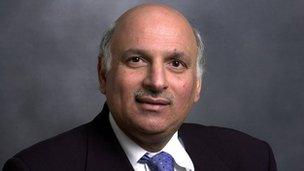 Former Glasgow Govan MP Mohammad Sarwar is to give up British citizenship to take up a role in Pakistani politics.
Mr Sarwar, who stepped down at the last general election, is understood to be on his way to Pakistan for a meeting with the Prime Minister Nawaz Sharif.
He played a significant part in Mr Sharif's election and was recently offered the role of High Commissioner in London.
The BBC understands he will now discuss a government position in Pakistan.
The Scottish politician initially turned down the High Commissioner job.
It is thought he could now be considered for a ministerial post or as governor of the Punjab which is one of Pakistan's largest provinces.
Mr Sarwar's son, Anas Sarwar, went on to win the Westminster seat vacated by his father in the May 2010 general election.
He was appointed deputy leader of the Scottish Labour party in 2011.
Related Internet Links
The BBC is not responsible for the content of external sites.