Scot, 19, from Lenzie held in Peru over drugs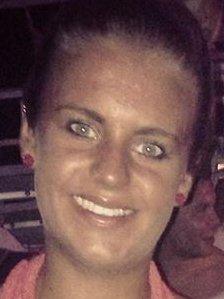 The family of a 19-year-old Scot detained in Peru over drugs allegations have spoken of their shock.
Melissa Reid, from Lenzie near Glasgow, was held with another young woman at Lima's airport after the discovery of cocaine said to be worth £1.5m.
Her father William told the Sunday Mail that her family have been given no information about her detention.
Ms Reid is being held along with Michaella McCollum Connolly, 20, from Belfast.
William Reid told the paper: "We don't know anything, we haven't been told anything.
"We don't have any new information. We are not in a position to elaborate.
"We're in the position where we are just trying to come to terms with it."
Freelance journalist Dan Collyns, in Lima, said the pair were facing potential prison sentences of six years and eight months if convicted, which was the standard term for smuggling less than 10kg of cocaine.
It is understood both women are still being detained in a holding cell at a police station and have not yet been transferred to the Santa Monica female prison, where Collyns said conditions were "pretty squalid and overcrowded".
Santa Monica has so many foreign prisoners being held for low-level drug smuggling offences that they have their own prison wing, he added.
He said: "Young people from many parts of the world think that it may be easy to get through customs and fly out on a commercial flight with a relatively small amount of cocaine in their luggage, but that isn't really the situation any more in Peru, if it ever was.
"Airports are now full of drug enforcement officers, people who are specially trained to look out for people who may be looking nervous, and also sniffer dogs are a regular sight in Peruvian international airports.
"They can expect to be held in prison for up to a year before being sentenced. The judicial process here is very slow, often very inefficient and also corrupt."
Ms Reid is a former pupil of Lenzie Academy who had been living in Ibiza since June.
She had posted hundreds of photographs to her Facebook page over the summer, but it has not been updated since 21 July.
A statement published on the National Police of Peru's website on Wednesday said the two women were alleged to have been acting as "drug mules".
They were detained by drug enforcement officials at Jorge Chavez International Airport after being detected by a sniffer dog.
It was claimed they had a total of just over 11.5kg of cocaine hidden in food products when they were arrested at the counter of Air Europa.
Officers said Ms Reid and Ms McCollum Connolly had been attempting to travel to Madrid, with a final destination of Palma in Majorca.
Ms Reid was alleged to have 18 packets containing a total of 5.78kg of cocaine and Ms McCollum Connolly 16 envelopes containing 5.81kg of the drug.
The Foreign Office in London confirmed it was helping a British national.
"We are aware of the arrest of a British national in Peru this week and are providing consular assistance," a spokeswoman said.
It is understood Ms McCollum Connolly is an Irish passport holder.
Police arrested 248 alleged drug mules at Jorge Chavez airport last year.
Peru is now said to be the world's largest exporter and producer of cocaine, ahead of neighbours Colombia and Bolivia.