Royal National Mod to be staged in Paisley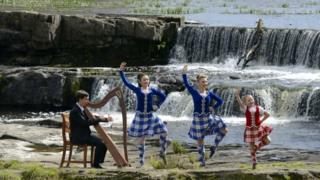 The Royal National Mod will be held in Paisley this year for the first time in its 121 year history.
The eight-day celebration of Gaelic music, dance, drama, arts and literature will take place from 11 until 19 October.
Almost 3,000 people, from as far afield as Australia, the US and Canada, have registered to compete.
The Mod is organised by An Comunn Gaidhealach, the world's oldest Gaelic organisation.
John Morrison, chief executive of An Comunn Gaidhealach, said: "We're absolutely delighted to bring the Royal National Mod to Paisley for the very first time.
"It's really encouraging to see that even though this is the first time we've brought the Mod to Paisley, we are seeing such high entries to competitions from adults and children from all over Scotland and further afield.
"With almost 3,000 participants already registered to take part, we can see that this Mod is going to be a really busy, lively event with the numbers of entries close to the numbers achieved at the 2009 Mod which was held in Oban."