Glasgow 2014: Commonwealth secretary general says city 'more than ready'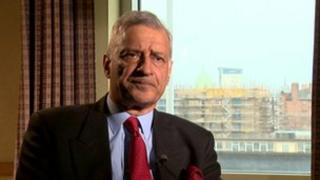 Glasgow is "more than ready" to host the Commonwealth Games next year, according to the secretary general of the association of nations.
Speaking on a visit to the city, Kamalesh Sharma told BBC Scotland he was impressed by the preparations.
He said the Games were the "flagship" of the Commonwealth and offered a "huge platform" to engage with young people.
The 11-day sporting festival next summer will see thousands of athletes compete in 17 sports across 14 venues.
On Friday, the Queen's Baton - which will visit all 71 competing nations and territories ahead of the Games - was unveiled.
Legacy aspect
Preparations for the 2014 games are at an advanced stage with the main venues having been built and opened to the public.
Mr Sharma was in Glasgow to attend the Commonwealth Federation's annual general meeting.
In an interview with BBC Scotland, he said: "From what I saw, it (Glasgow) is more than ready.
"I think both from the aspect of preparation and readiness, and also from the aspect of legacy, which is of enormous importance to me as secretary general, in terms of what is going to come out of it.
"I think the thinking and the action is very encouraging."
The secretary general said he hoped the Games would appeal to young people and act as a "vehicle" for ambition.
"The Games are the flagship of the Commonwealth," he said.
"If you were to pick on one facet which is most recognised, not just by young people, but by the citizens of the Commonwealth, it is going to be the Games.
"The big idea about the Commonwealth now is about how young it is progressively becoming. I've been to countries in the Commonwealth where people under 29 make up nearly 70% of the population. Therefore, in which ever way you can appeal to young people you should do it. Sports is the obvious way."
He added: "We want, through sports, to bring to them the values of the Commonwealth - leadership, capacity to become entrepreneurs and independent people, not jobseekers but job creators.
"The Games offer a huge platform for this."
A full version of the interview can be seen on Newsnight Scotland on Monday night, BBC 2 Scotland at 23:00.