Joseph Townsley found guilty of Frank Baxter lorry killing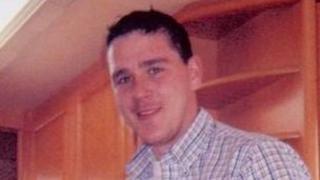 A man who drove a lorry into a garden and killed an amateur boxer has been found guilty of culpable homicide.
Joseph Townsley, 63, crashed his seven and a half tonne Ford Iveco truck through the gates of the house in Newmains, North Lanarkshire.
Frank Baxter, 23, is thought to have died after falling backwards and hitting his head on a wall.
Townsley had stood trial for murder but a jury at the High Court in Livingston found him guilty of the lesser charge.
He was described as an uncle of Mr Baxter's father.
The trial heard Townsley, a tarmac contractor known as Bomber, had travelled to the home of Mr Baxter's parents in Crindledyke Crescent, Newmains, on 8 May last year.
The court was told he was looking for Mr Baxter after his daughter claimed to have been attacked by him, another man called Alex Minto, 31, and their wives Willamina Baxter, 25, and Saphire Foy, 32, at the M and D's theme park earlier that day.
Townsley was followed by other members of his family.
'No braking'
Mr Baxter and Mr Minto had grabbed golf clubs and were standing outside the house when they saw the lorry coming towards them.
The court heard from crash investigator, PC Douglas McLeod, who said there was "no evidence" brakes had been applied prior to impact.
Mr Baxter was taken to Wishaw General Hospital but died less than an hour later after his brain swelled due to a skull fracture, thought to have been sustained when he fell backwards and struck a wall.
The court was shown CCTV footage of another car pulling up beside the lorry, which was deliberately set on fire just minutes after the crash.
Rather than contacting the police, Townsley gathered his wife and children and "went away", before contacting his solicitor.
Judge Lady Wise deferred sentence until 18 September at the High Court in Edinburgh.
She said: "I will require criminal justice social work reports."
She refused bail, due to the seriousness of the offence.
Tight security has been in place during the trial as police and court officials attempt to keep rival members of the family apart.
Over a dozen officers stood guard around the court building and in the court room every day to prevent the tension erupting into violence.
Witnesses and family members have had police escorts taking them in and out the court building from their cars.