Inverclyde Council to pay £30,000 to ice slip janitor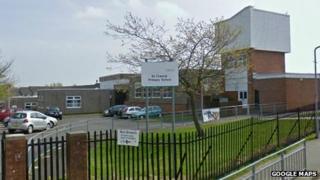 A Scottish council is to pay a school janitor £30,000 damages after he slipped on ice while disposing of a condom found on a fire escape.
Stephen McKeown hurt his back in the fall, which happened after he carried out salting work at St Francis' Primary in Port Glasgow in November 2010.
The 61-year-old sued Inverlcyde Council over the incident.
A judge said the council's gritting system was reasonable but existed only on paper and was never put into action.
The Court of Session heard that Mr McKeown had worked for 18 years as a janitor at various schools.
Wintry weather
At the time of the incident, he was working at St Stephen's High School, in Port Glasgow, but was asked to go to St Francis' Primary in the town to provide cover.
He said he set off from his house at the high school in wintry weather and arrived at St Francis' about 07:00.
The grounds were icy in places and he began salting paths and playgrounds working his way round the building.
He had thrown salt by hand on steps leading up to fire escapes at classrooms.
After 09:00 he had salted other areas not already covered, such as the car park.
During break time it was his duty to monitor pupils out in the playground and to pick up litter.
Two girl pupils had drawn his attention to a condom lying at the top of a fire escape and he went to retrieve it with a litter picker when he slipped and fell against a wall.
He later sued his employer after finding his back becoming increasingly painful.
The court heard that damages were agreed at £30,000 but the council did not accept liability.
The local authority had argued that if the judge found against them over liability he should hold that Mr McKeown contributed to the accident by his own negligence and should be held responsible.
Reasonable system
It was pointed out that he had been a janitor for many years and had slipped on fire steps he had salted earlier in the day, which at the time would have been in full view and he would have been in a position to see any remaining ice.
Judge Lord Burns rejected that contention and said: "I have come to the view that the pursuer (Mr McKeown) should not be held to be responsible for his accident to any extent."
The judge said he had come to the view that Inverclyde Council's system for carrying out gritting at such premises was a reasonable one.
Janitors were expected to treat paths leading up to the school as a priority and complete that before 09:00, with other areas, such as fire escapes like the one Mr McKeown fell at, salted afterwards.
But Lord Burns added: "But it existed only on paper and was never actually put into action."
The judge noted that Mr McKeown used his own system to apply the salt "without any assistance by way of instruction or training from his employers".
"He cannot be blamed for proceeding as he did," Lord Burns said.
"Because of the way he approached his task, he was placed under some pressure of time. It is understandable, in those circumstances, that some areas which he treated prior to 9am were not treated effectively."
The judge added: "I do not consider that he should be held responsible for a failure to apply salt, or sufficient salt, to the top step of the fire steps.
"In addition, he was not told to use a scoop to apply salt to this area and, had he been so instructed, I was satisfied that he would have done so and it would have made effective coverage of the area more likely."