Concern at mortality rates at two Lanarkshire hospitals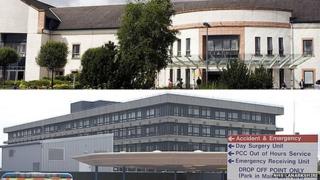 Health inspectors are to assess patient safety at three Lanarkshire hospitals following concerns about above average mortality rates.
Monklands and Wishaw General Hospitals recorded higher rates than the national average during the last quarter.
Healthcare Improvement Scotland (HIS) will now investigate both, along with Hairmyres Hospital in East Kilbride.
NHS Lanarkshire said it would work closely with the assessment and launch an action plan to make improvements.
Figures published on Tuesday by ISD Scotland show that the hospital standardised mortality ratio (HSMR) in Scotland has fallen by 11.6% since the last quarter of 2007.
'Important prompt'
The figures also show that Monklands and Wishaw Hospitals had high ratios for the latest quarter.
NHS Scotland clinical director Prof Jason Leitch said: "Although a high hospital standardised mortality rate is not by itself a definitive measure of the quality and safety of care, it serves as an important prompt for further investigation.
"Where HSMR suggests a potential issue, a health board must be able to demonstrate that it is taking appropriate action to investigate and resolve any problems found to be causing a higher than expected HSMR, and it is reassuring that NHS Lanarkshire is already working on an action plan to address this.
"That is why I have also commissioned Healthcare Improvement Scotland to undertake a rapid assessment, in partnership with NHS Lanarkshire, of the reasons behind the HSMR figures in Lanarkshire and to see if the improvement measures in place can be strengthened and accelerated."
The review will look to identify if there are any underlying issues which may need to be resolved at the Lanarkshire hospitals.
Dr Iain Wallace, medical director for NHS Lanarkshire, said: "Our priority is for patients to receive the highest quality of care every time and we have a clear focus on the provision of safe and effective patient care.
"We very much welcome the support and involvement of HIS to undertake an assessment of the local action plans we are progressing, along with their detailed review to identify any further improvement measures that can be implemented.
HIS is expected to report its findings to the Scottish government by the end of 2013.
Robbie Pearson, director of scrutiny and assurance for HIS, said: "We will carry out a rigorous and independent review of NHS Lanarkshire.
"Our work will be driven and underpinned by a commitment to improving the safety and quality of care for patients, and patient interests will be placed first at all times."
Mr Pearson said the final report from HIS would be made public in due course.